Navigating the salary cap is one of the more important tasks for any GM.  Teams that can avoid total cap chaos by walking the tightrope of inking players to deals that match their value (or compensate for future value without breaking the bank) remain successful.  Those that don't see struggles and front office changes.
PHR will look at every NHL team and give a thorough look at their cap situation for the 2022-23 season and beyond.  This will focus more on players who are regulars on the roster versus those who may find themselves shuttling between the AHL and NHL.  All cap figures are courtesy of CapFriendly.
Tampa Bay Lightning
Current Cap Hit: $89,574,031 (over the $82.5MM Upper Limit)
Entry-Level Contracts
D Nick Perbix (one year, $842.5K)
Potential Bonuses
Perbix: $82.5K
Perbix has already signed an extension so we'll cover that later on.  His bonuses are games-played based and typically require 80 games to max out.  However, there are generally a few tiers for bonuses at this price point so he should receive some of this amount.  With Tampa Bay into LTIR, whatever Perbix earns will come off their cap next season.
Signed Through 2022-23, Non-Entry-Level
F Rudolfs Balcers ($750K, RFA)
F Pierre-Edouard Bellemare ($1MM, UFA)
D Ian Cole ($3MM, UFA)
F Ross Colton ($1.25MM, RFA)
G Brian Elliott ($900K, UFA)
D Callan Foote ($850K, RFA)
F Alex Killorn ($4.45MM, UFA)
F Vladislav Namestnikov ($2.5MM, UFA)
F Corey Perry ($1MM, UFA)
Killorn's future with Tampa Bay has seemingly been in question for a while now with the team having to cut from its veteran core each season.  Those questions will only intensify now as it's hard to see how they can afford to keep him.  The 33-year-old has a chance at beating his career high in points (59, set last season) which would at least help him hit the open market on a high note.  He should be able to get a small raise on a medium-term agreement.  Namestnikov also appears to be unlikely to return as he hasn't fit in during his second stint with the team.  He'll also be hard-pressed to match his current AAV unless he can turn things around down the stretch.  Perry and Bellemare are low-cost veterans that Tampa Bay will either want to retain or bring in someone else to replace them at likely a slightly lower cap charge if possible.  If they look elsewhere, they'd be in line for similar contracts to what they're on now.
On the RFA side up front, Colton will be in line for a sizable raise.  He potted 22 goals last season and has a chance at 20 this year.  Notably, he'll also have salary arbitration eligibility which could push his next contract past the $3MM range.  He's an important part of their bottom six but they might have to get creative to keep him around.  Balcers was picked up off waivers earlier this season and he tested the UFA market last summer after being bought out.  Another minimum-priced contract should be coming his way which could keep him around for another year in Tampa Bay.
On the back end, Cole is arguably having a better year than he did last season with Carolina, logging his highest ice time since 2018-19 in the process.  Having played on one-year deals for the last two seasons now, he might have a shot at a multi-year agreement at a price tag that's close to this one.  Foote still hasn't been able to quite lock down a full-time spot in the lineup which will hurt his case even with arbitration eligibility.  He should be able to push past the $1MM mark but his next deal shouldn't be much more than that, even if they decide to tack on a second season.
Elliott has put up numbers that are hovering near the league average this year which is a good return on one of the cheapest goalie contracts in the league.  But he turns 38 in April and is going to be going year-to-year from here on out.  On merit, he's worthy of at least a small raise but if he wants to stay with the Lightning, it'll have to be at this price point at most.  With how their roster is structured, Tampa Bay simply can't afford a more expensive backup netminder.
Signed Through 2023-24
D Zach Bogosian ($850K, UFA)
D Haydn Fleury ($762.5K, UFA)
F Brandon Hagel ($1.5MM, UFA)
F Pat Maroon ($1MM, UFA)
D Philippe Myers ($2.55MM in 2022-23, $1.4MM in 2023-24, UFA)
D Brent Seabrook ($6.875MM, UFA)
F Steven Stamkos ($8.5MM, UFA)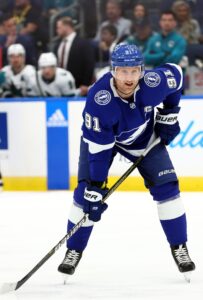 Stamkos isn't really slowing down and has provided a lot of value on this contract as he continues to be a focal point of Tampa Bay's attack.  Accordingly, he has positioned himself for a raise on his next deal if he wants to go after top dollar.  In that case, he could land an eight-digit AAV, especially with 2024 pegged as the summer for the Upper Limit to jump up by a fair-sized amount.  But if he wants to stick around with the Lightning, this feels like a situation where he could accept a longer-term contract to help try to bring the cap hit down somewhat relative to market value.  Such a deal would take him closer to age 40 which isn't necessarily ideal but it would keep the price tag closer to where it is now which would allow them to keep the core around as long as possible.
The Lightning paid a sizable price to land Hagel thanks to what has quickly turned into one of the bigger bargains in the league.  If he continues to score around his current pace, he could make a case to quadruple his current price tag.  Even with a higher cap at that time, it might be tough for them to keep both Hagel and Stamkos around.  As for Maroon, he's a fourth liner at this point and will be 36 when he hits the open market.  That will likely keep him around this price tag two years from now.
Let's get Seabrook out of the way quickly.  You might have forgotten that he's here now instead of in Chicago but his situation hasn't changed as his playing career has come to an end.  He will remain on LTIR until this deal expires which means that Tampa Bay is going to have regular cap space for a few more years.
Myers came over during the summer in the Ryan McDonagh trade and while many expected him to be bought out to give Tampa Bay a cap credit, he was instead extended at this lower price.  Their cap situation has Myers in the minors right now but if he can lock down a regular spot next season, he could be able to land a deal a bit closer to what he's getting this year.  Bogosian has had a limited role when healthy this season and is more of a depth defender at this point.  A deal around what he's getting now is where his market should fall.  Fleury, meanwhile, has had a very limited role and until he can establish himself as a regular, his value is going to remain at or near the minimum salary.
Signed Through 2024-25
D Victor Hedman ($7.875MM, UFA)
D Nick Perbix ($1.125MM from 2023-24 through 2024-25, UFA)
Hedman has been Tampa Bay's top defenseman for the better part of the last decade and hasn't shown much in the way of signs of slowing down.  At a time when top rearguards are landing more than $10MM when they're eligible for free agency, he has been a nice bargain for the Lightning and should continue to be for the rest of the deal.  When it's up, his playing time should be starting to dip which could keep his AAV close to this one, especially if he re-signs.  Perbix has been a pleasant surprise this season which earned him this low-cost extension not too long ago.  It's a low-risk proposition as if Myers or someone else passes Perbix on the depth chart, the deal can be buried in the minors without any lingering cap charge.
Signed Through 2025-26 Or Longer
D Erik Cernak ($2.95MM in 2022-23, $5.2MM from 2023-24 through 2030-31)
F Anthony Cirelli ($4.8MM in 2022-23, $6.25MM from 2023-24 through 2030-31)
F Nikita Kucherov ($9.5MM through 2026-27)
F Nick Paul ($3.15MM through 2028-29)
F Brayden Point ($9.5MM through 2029-30)
D Mikhail Sergachev ($4.8MM in 2022-23, $8.5MM from 2023-24 through 2030-31)
G Andrei Vasilevskiy ($9.5MM through 2027-28)
Kucherov has been one of the elite wingers in the NHL for several years now but is only tied for the fifth-highest AAV in the league among wingers (and will slide further down the list over the next few seasons).  At 29, there's no reason to think he doesn't have several more high-end years left in him so this should be a relative bargain for the foreseeable future.  Point is a legitimate number one center and at 26, he's in his prime.  He doesn't pick up the points like Kucherov does (few do) so his deal isn't as below-market as his frequent linemate but having a top middleman locked up for this long gets one of the foundational pieces in place for the long haul.
Cirelli's numbers are down this season although he continues to be one of the stronger defensive forwards in the league.  If he can lock down the second center spot, the Lightning will get good value here.  If he remains more of a secondary option (which could happen early on with most of the core set to return next season), this deal might be a bit pricey at the beginning unless he's able to get closer to the 50-point mark.  Paul was viewed as likely a straight rental but they were able to work out a long-term deal to keep him around at a higher-end third line rate.  He's producing a bit above that this year and as long as that continues, they'll do well with this deal.
Sergachev has slowly been improving each season and has found another gear this year, emerging as a legitimate top-pairing defender.  While he will need to maintain his current level of production to justify this price point, there's certainly reason for optimism that he'll be able to do so.  It could be suggested that he's already close to becoming their number one defender and when that does happen, he'll be making less than market rate for someone in that role.  Cernak is a valuable shutdown defender that can play some heavy minutes defensively.  At his current price tag, they're getting good value.  At $5.2MM though, that's a bit of a premium to pay for that type of player.  Perhaps there's a bit more offensive upside there but if that doesn't happen, this could be a bit of an above-market contract.
Vasilevskiy has been an elite goaltender for several years and even in a bit of a quieter season as this one has been for him, he still has been well above average.  Yes, he's paid well above the league average for a starter but he has played well enough to earn that type of payday.  It's possible that he slows down a bit toward the end of the deal but that shouldn't be a concern for a while.  They'll be paying a premium at this position but they're getting bang for their buck.
Buyouts
F Vincent Lecavalier ($1.762MM through 2026-27, cap-exempt)
Retained Salary Transactions
None
Best Value: Hagel
Worst Value: Myers
Looking Ahead
There has been a reason why GM Julien BriseBois has been suggesting that his team isn't likely to be active at the trade deadline.  They just don't have a lot of LTIR room remaining, not even enough for a player making the league minimum.  They might be forced to try to get a team to retain on a minimum contract.  When you're in that situation, it's hard to take a big swing on the trade front.
For next season, they have over $75MM in commitments even after backing out Seabrook's deal which will once again be on LTIR.  They'll have at least five roster spots to fill (likely one or two more to be safe) with what's left so that doesn't give them enough flexibility to try to keep Killorn in the fold barring a trade.  There has long been an expectation that the extra veteran depth would slowly be broken up and that has started with past trades of Tyler Johnson and McDonagh.  That trend is likely to continue for 2023-24 and beyond.
Photo courtesy of USA Today Sports Images.