The Jesse Puljujarvi saga in Edmonton is ending. The Carolina Hurricanes have acquired Puljujarvi from the Oilers today, after months (if not years) of trade speculation. The rights to Patrik Puistola are going back to Edmonton in the trade, and the Oilers will not be retaining any of Puljujarvi's contract.
This ends a long, disappointing tenure for Puljujarvi in Edmonton, starting the moment they selected him fourth overall in 2016. Despite his size, speed, and relative success in the Finnish professional league, he was completely overwhelmed when he entered the NHL in 2016-17. Bouncing up and down between the NHL and AHL hindered his development, and a few years later, Puljujarvi had enough.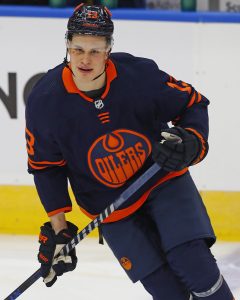 In 2019-20, when his entry-level deal expired, he refused to sign a contract with the Oilers and asked for a trade. He would return to Finland to play for the entire season, once again finding great success in a more offensive role back home.
Upon returning to Edmonton the following year, Puljujarvi turned in a relatively good performance, scoring 15 goals and 25 points in 55 games. But his game had inconsistent swings in production, and it was hard to know exactly where his place on the Oilers really was.
Now, with Edmonton looking to make a big splash at the deadline but pushed right up against the salary cap ceiling, Puljujarvi needed to go. His $3MM will come off the books, meaning the team can add something significant in the coming days.
Puistola, 22, may never actually play for the Oilers. The 2019 third-round pick is unsigned and would need a contract by June 1, or his exclusive draft rights will expire. That gives Edmonton a few months to work something out with the young forward, who scored 38 points in 56 games with Jukurit in Finland this season.
In Carolina, Puljujarvi should feel a little more at home. The Hurricanes' roster is filled with Finnish players, including 2016 World Junior teammate Sebastian Aho. There's a real chance that he finally shows some of the offensive potential that has been locked up for so long, though that is by no means guaranteed after so many tumultuous development years.
At the very least, Puljujarvi—who has some very good underlying defensive and possession metrics—will add another big-bodied forward to the Hurricanes attack, and lengthen their forward depth chart even further. The injury to Max Pacioretty gave Carolina some wiggle room in terms of cap space, and they've used it to take a swing on a move that could still pay huge dividends down the road.
Puljujarvi is still scheduled for restricted free agency at the end of the year, and would be due a $3MM qualifying offer. Given the money coming off the books in Carolina, there's no reason why they would be afraid of that number, meaning they could get a longer look at Puljujarvi with a long-term commitment if finds a fit down the stretch.
It is a disappointing outcome for another high pick in Edmonton, but fans will quickly forget the sacrifice if they can turn this cap space into a difference-maker at the deadline.
Pierre LeBrun of The Athletic broke news of the deal on Twitter.
Photo courtesy of USA Today Sports Images