A few moments after announcing that Dmitry Orlov and Garnet Hathaway would be held out of the lineup for tonight's game for trade protection purposes, the Washington Capitals have sent both players to the league-leading Boston Bruins.
Heading back to the Capitals is forward Craig Smith, Boston's first-round pick in 2023, Boston's third-round pick in 2024, and Boston's second-round pick in 2025. Washington will retain 50% of Orlov's remaining salary, while the Minnesota Wild will retain 25% of Orlov's contract, sending the rights to Andrei Svetlakov to Washington (who actually flipped those rights to Boston in the other part of the deal), and acquiring Boston's fifth-round pick in 2023.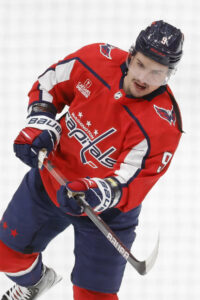 The NHL's best team just became much better. With the acquisition of Orlov and Hathaway, the Bruins have cemented themselves as a top Stanley Cup contender and an odds-on-favorite for Lord Stanley. In his 11 seasons in Washington, Orlov became one of the more underappreciated defensemen in the league. Being able to do a little bit of everything, averaging over 100 shots, 100 hits, and over 20 minutes a game, Orlov is a complete player that Boston will now be able to supplant into their already talented defensive core.
Joining him on the New England juggernaut is Hathaway, who is a near-perfect example of what Bruins fans have come to love from their players over the years. A hard-nosed forward, Hathaway can provide depth goal scoring, sufficient work on the penalty kill, and amassing almost 200+ hits every year of his career. If they weren't already hard enough to play against, Orlov and Hathaway turn Bruins into an even more frustrating opponent for the rest of the league.
Although they only find themselves two points out of a playoff spot, the Capitals' recent stretch of play has sent them into a bit of a spiral. Losing their last five games in a row, the Capitals seemed to have made a pivot toward selling during this deadline. Still carrying the likes of Alex Ovechkin, Nicklas Backstrom, and John Carlson, it is not likely that this will lead to a full-tear down in D.C. However, with so many players headed for unrestricted free agency after this season, and falling further out of the playoff picture, it is only natural that the Capitals recoup some assets from this group.
Having already traded away this year's third-round selection and next year's second-round selection in separate trades, the Capitals looked to restock their draft capital in this deal with Boston. After falling out of favor in Boston and clearing waivers earlier this season, Smith can slot into the Capitals' bottom six for the remainder of the season.
Much like the trade sending Ryan O'Reilly to the Maple Leafs, the Wild were able to involve themselves in this trade as well. With ample deadline cap space, the Wild have now used 2/3 of their retention slots in the last six days to help facilitate deals around the league.
Boston will also receive the rights to Svetlakov, though his inclusion will be overshadowed by the two NHLers. Drafted in the sixth round of the 2017 NHL Draft, Svetlakov has spent the last several seasons playing for CSKA Moscow of the KHL.
Photo courtesy of USA Today Sports Images
Elliotte Friedman of Sportsnet was the first to report that Hathaway and Orlov were headed to Boston, while Pierre LeBrun of The Athletic first reported Smith and picks would be the return to Washington.