After activating Robert Bortuzzo yesterday, the St. Louis Blues ended up with eight healthy defensemen on the roster. That was never going to last long, and today they've solved the problem by sending Tyler Tucker to the AHL. Nikita Alexandrov has been recalled in his place.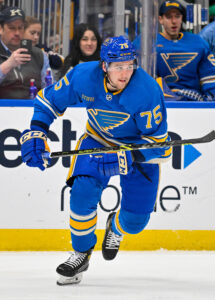 Tucker, 22, has played in 12 games for the Blues this season, showing he's much more than the average seventh-round pick. The young defenseman has just one point but rarely looks overmatched, and should likely play a role on the team in the future.
For now, though, he'll rejoin the Springfield Thunderbirds where he has 13 points in 25 games.
Alexandrov, 22, continues his yo-yo season, coming back up after just a few days. The young forward has four points in 16 games so far and should also get a bigger look down the stretch, especially if the Blues end up selling at the deadline. The 2019 second-round pick has 12 goals and 20 points in 23 games with the Thunderbirds.
Photo courtesy of USA Today Sports Images