Jan 4: The Red Wings' gamble has paid off, as Vrana cleared waivers and has been assigned to the Grand Rapids Griffins. This would actually increase Vrana's trade value if Detroit is looking to make a move, given he can now be stashed in the minors while he gets back up to speed by any acquiring team. Fabbri has been officially activated from injured reserve to take his place.
Jan 3: The Detroit Red Wings were expected to place a player on waivers today to make room for Robby Fabbri's return, but no one expected it to be Jakub Vrana. Chris Johnston of NorthStar Bets reports that the forward, who only recently moved to the next phase of the Player Assistance Program, has been placed on waivers today.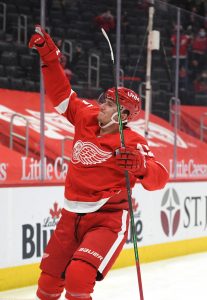 Vrana, 26, is in the second season of a three-year, $15.75MM contract he signed with the Red Wings in 2021 after being acquired from the Washington Capitals. The 13th overall pick from 2014, he had shown an ability to score at a high level and appeared to be a core piece for the team moving forward. Since arriving in Detroit, though, Vrana has been in and out of the lineup, and has just 39 games played as a Red Wing. This season he has appeared at the NHL level just twice, recording two points.
This could be nothing more than the Red Wings, believing his contract will get him through waivers, allowing Vrana to get his game back in order at the minor league level. But even with the $5.25MM cap hit, there is at least some risk of losing him entirely. Several rebuilding clubs have the cap space necessary to fit him in, and given his relative youth and strong history in the league, it may be worth the chance.
Through 323 NHL games, Vrana has scored 98 goals and 189 points, a 25-goal, 48-point pace when expanded to a full 82-game schedule. While other teams may not have a full understanding of his current situation, it would be hard to blame them for taking a swing with a waiver claim. His contract, while expensive, does expire after next season and leave him an unrestricted free agent, meaning for a club like the Anaheim Ducks, Chicago Blackhawks, or Arizona Coyotes, there would be the possibility of a short-term flip for more assets a year from now.
That would of course mean committing to a significant salary, though. Vrana is owed $5.75MM next season in the slightly back-loaded deal.
The Red Wings, meanwhile, have some big contract negotiations upcoming, so this is perhaps an attempt to get out from under Vrana's deal. Dylan Larkin, Pius Suter, and Tyler Bertuzzi are all unrestricted free agents at the end of the year, with the former likely demanding a huge raise over his current $6.1MM cap hit. If Steve Yzerman no longer believes in Vrana as a core piece, he could be looking for a little financial freedom by offering him up to the rest of the league.
Photo courtesy of USA Today Sports Images