The summer of Dorion continues. The Ottawa Senators are bringing in another free agent forward that should excite the fan base, though not in exactly the same way Claude Giroux does. Tyler Motte will be signing with the club according to Luke Fox of Sportsnet, who credits colleague Elliotte Friedman for the tip. James Mirtle of The Athletic reports that the deal is for one year and $1.35MM.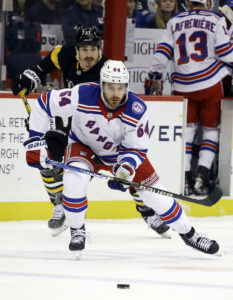 Motte, 27, found his way onto our top 50 free agent list this year despite his relatively low offensive ceiling, thanks to the work ethic and skating ability that made him a fan favorite for the Vancouver Canucks. The bottom-six forward scored 15 points in 49 games for the Canucks last season before a deadline deal took him to the New York Rangers, where he was held scoreless down the stretch before tallying two goals in 15 postseason matches.
While Motte has been in the league since 2016, he really emerged onto the national stage in the 2020 bubble playoffs, when he scored four goals for the Canucks and was a wrecking ball on the ice every shift. He had 61 hits in those 17 postseason games, despite playing just over 15 minutes a night, and earned a two-year contract as a reward. That deal carried a cap hit of $1.225MM, meaning he's barely getting a raise to join the Senators after what seems like a misread free agent period.
Signing this late in the summer is never going to result in a huge contract and now Motte will have to try again next year if he wants the security of a multi-year deal.
Where he fits into the Ottawa lineup is another story, as the team already has a number of forwards set to compete for NHL spots. Even in a fourth-line role, though, Motte can be effective. He averaged more shorthanded ice time than any forward not named J.T. Miller for the Canucks last season and was once again a physical presence, racking up 90 hits in those 49 games. He may not provide much offense – nine goals and 16 points are his career highs – but he'll add more depth to an Ottawa forward group that suddenly looks quite impressive.
Photo courtesy of USA Today Sports Images