A few days ago it was reported that Jordan Kyrou and the St. Louis Blues were working on an extension. It appears those talks were positive, as Kyrou has signed an eight-year, $65MM extension. The deal is the same as the one that Robert Thomas signed earlier this summer, carrying an $8.125MM cap hit through the 2030-31 season.
Kyrou released a statement on the deal:
I'm so thankful to the Blues organization for putting their trust in me and giving me the opportunity to wear the Blue Note for the forseeable future. Being able to call St. Louis my home is amazing. I can't say enough about how much I love the city. And to the best fans in the League, I can't thank you enough for always showing me love and support.
Kyrou, 24, had a brilliant season in 2021-22, registering 27 goals and 75 points in 74 regular season games and then another seven goals in 12 playoff matches. The young winger attacks with incredible speed and finesse, registering those points despite averaging fewer than 17 minutes a night.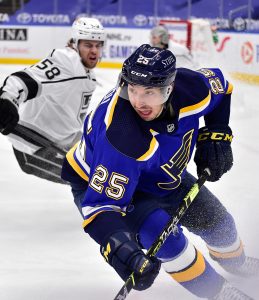 In fact, among players with at least 40 games played this season, Kyrou ranked 15th in the entire league in 5v5 points/60 at 2.93. That put him just behind Jonathan Huberdeau and Thomas, the latter actually tied with him. His 1.29 5v5 goals/60 tied him with Johnny Gaudreau, and Jake Guentzel for 21st in the league, showing just how dominant he was in his opportunity.
An extension like this suggests that the opportunity for Kyrou will only grow in the years to come, with more minutes being funneled to him and Thomas as the new core pieces of the offense. Notably, both Vladimir Tarasenko and Ryan O'Reilly, veteran talents who have led the Blues for years, are scheduled for unrestricted free agency next summer. While these massive long-term deals certainly don't rule out extensions for the older forwards, the Blues are obviously focused on their emerging stars and wanted to get them locked up as soon as possible.
Remember, the salary cap ceiling will start raising again in the years to come, meaning long-term contracts signed now may look like bargains down the road. With this extension not kicking in until Kyrou is 25, the Blues have essentially bought his entire prime.
The two young players will continue to be linked not only because of their team but also their financials so far. Kyrou and Thomas are both in the final year of identical two-year, $5.6MM bridge deals they signed in 2021, meaning their contract status will basically be identical for the better portion of their careers.
Photo courtesy of USA Today Sports Images