Free agency is now less than two weeks away and many teams are already looking ahead to when it opens up.  There will be several prominent players set to hit the open market in mid-July while many teams have key restricted free agents to re-sign as well.  Next up is a look at the Detroit Red Wings.
Key Restricted Free Agents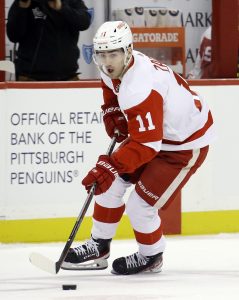 F Filip Zadina – Once viewed as a possible top-three pick in the 2018 draft, Zadina's stock fell a bit back then and it has still fallen since then.  His first full NHL season saw him show flashes of the upside that was enough for Detroit to pick him sixth in the draft but there were plenty of concerns about his play away from the puck and his overall consistency.  Coming off a platform year of 10 goals and 14 assists, Zadina certainly hasn't put himself in a territory where he can command a long-term deal, nor should he want one.  At this point, what's clear is that he'll be receiving a bridge deal.  What isn't as clear is whether it will be the Red Wings giving it to him or another team altogether.
D Jake Walman – With St. Louis, Walman had a very limited role when he was able to get into the lineup but that changed following his trade to Detroit at the deadline.  After that, he became a regular on the third pairing, seeing his ATOI jump from under 12 minutes a game to over 17, giving him his first consistent stretch of NHL action and he certainly held his own in that role.  Coming off a platform season with 10 points in 51 games and just 82 career appearances under his belt, Walman won't be able to command much of a raise but he is a year away from UFA eligibility.  If GM Steve Yzerman thinks there is still some upside with Walman, a two-year deal that buys an extra year of team control is doable that could see the AAV closer to the $1MM mark after making the minimum the last two seasons.
F Mitchell Stephens – The 25-year-old was brought over from Tampa Bay with the hopes that he'd be able to grab onto a full-time role on the fourth line.  However, Stephens wound up missing 55 games with a lower-body injury and while he played in the 27 remaining games, there remain some questions as to whether or not he's going to be a long-term option for Detroit.  He's owed a qualifying offer of just under $814K and it shouldn't take much more than that to give him a one-year contract and another opportunity to try to stake his claim to a full-time spot in the lineup.
Other RFAs: G Kaden Fulcher, D Olli Juolevi, D Chase Pearson
Key Unrestricted Free Agents
D Marc Staal – The 35-year-old isn't the high-end shutdown defender that he was in the prime of his career but he still has some value as a third-pairing player that can kill penalties.  Detroit saw that last summer and brought him back to play that exact role in 2021-22 where he did a decent job.  It's possible that the Red Wings keep him around as an insurance policy if they aren't able to bring in a more impactful veteran on the left side of their back end.  If not, Staal should have some suitors on contending teams looking for a proven defender but in that situation, he will likely need to take less than the $2MM he received from the Red Wings this past season.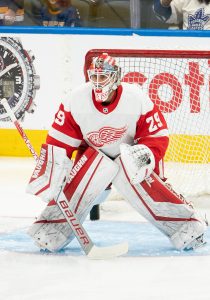 G Thomas Greiss – In his first year with the Red Wings, Greiss did well with his GAA and SV% basically matching his career averages.  In terms of a short-term stopgap, he looked like a good pickup.  However, the 36-year-old struggled mightily in 2021-22, posting a 3.66 GAA with a SV% of just .881, both career-worsts.  Was it a sign that his best days are behind him or will there be a team or two that thinks in a more stable defensive environment, Greiss could still provide a performance around the league average?  It's possible that there is limited interest this summer but it's also quite possible that his poor performance has resulted in his 13-year NHL career coming to an end.
D Danny DeKeyser – DeKeyser's stock has dropped considerably in the last couple of years and he has cleared waivers on multiple occasions.  That said, his $5MM AAV made it a near-lock that he was going to pass through unclaimed so there was no risk in going that route.  The 32-year-old could still fit on the third pairing for some teams next season at a price tag that's considerably lower and is more commensurate for that role.  However, it would be surprising to see him return to his hometown team.
F Sam Gagner – Gagner is quietly coming off a serviceable season as a depth scorer for the Red Wings, picking up 13 goals and 18 assists in 81 games while playing under 14 minutes a night with 29 of those points coming at even strength.  For a bargain price of $850K, he was one of Detroit's better bargains in 2021-22.  Now 32, the 15-year veteran has his limitations but as an affordable depth scorer, Gagner should have a decent market waiting for him in free agency.
Other UFAs: F Riley Barber, F Turner Elson, G Magnus Hellberg, G Calvin Pickard, D Dan Renouf, F Carter Rowney
Projected Cap Space
As far as cap space goes, Detroit has plenty as they have more than $35MM at their disposal.  Their restricted free agents won't take much off of that number which means that Yzerman has the ability to go after the top unrestricted free agents if he wants or if he feels the team led by new head coach Derek Lalonde isn't ready to push for a playoff spot yet, the Red Wings could be a team to watch in terms of adding some assets for taking on undesirable contracts.  There will be several new faces in Hockeytown as a result next season.
Photos courtesy of USA Today Sports Images.  Contract information courtesy of CapFriendly.