It's easy to forget that Jake Gardiner is still under contract with the Carolina Hurricanes for next season, given how long it has been since he was a regular in the lineup. The 31-year-old hasn't played in more than a calendar year, last suiting up for just nine minutes in a playoff game against the Nashville Predators in May 2021. Even then he lasted just 11 shifts, not exactly the way any player wants to end their career.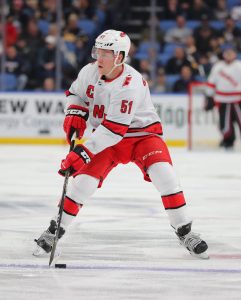 Since then, Gardiner has undergone hip and back surgeries, procedures that suggested to many that his playing career was over. Not so fast, according to general manager Don Waddell, who explained today at his end-of-year availability that the team has just recently received notice that Gardiner is now fully cleared to play again.
Signed to a four-year, $16.2MM contract in 2019, the smooth-skating defenseman will carry a cap hit of $4.05MM next season for the Hurricanes. If he's completely healthy, that complicates things quite a bit, as for the last year they have been operating with him on long-term injured reserve. There's no telling what kind of player Gardiner will be if he does return, especially given how those back problems had gone back several years to his time with the Toronto Maple Leafs.
The problem now is that the Hurricanes already have three other defensemen making at least $4MM, Tony DeAngelo waiting for a raise through arbitration, and several top free agents like Vincent Trocheck and Nino Niederreiter to potentially re-sign. Gardiner also does hold a seven-team no-trade clause, which could make a deal even more difficult if the team tried to go down that route.
Technically, if he is now fully healthy, the Hurricanes could buy Gardiner out this summer. That would result in a cap hit of $1.083MM in 2022-23 and $1.483MM in 2023-24, though that may be more palatable than rolling the dice with his post-surgery performance.
At his peak, the 6'2″ Gardiner was one of the most effective puck-moving defensemen in the league, hitting a career-high of 52 points in 2017-18 with the Maple Leafs. Unfortunately, his play also came with regular giveaways that always seemed to happen at the most inopportune times, gaffes that often contributed to early playoff exits.
Now, if he's completely healthy and ready to resume his career, the Hurricanes will have to make some tough decisions on how to deal with his cap hit as they prepare for next season.
Photo courtesy of USA Today Sports Images