Free agency is now just a few weeks away and many teams are already looking ahead to when it opens up.  There will be several prominent players set to hit the open market in mid-July while many teams have key restricted free agents to re-sign as well.  Next up is a look at the Edmonton Oilers.
Key Restricted Free Agents
F Jesse Puljujarvi – A trio of top young forwards is hitting RFA status this year for the Oilers but it is Puljujarvi that will draw the most attention. Whether that is because of his draft pedigree–fourth overall in 2016–or the obvious upside that just oozes out of his 6'4″ frame, the big forward is a constant topic of debate in Edmonton. There are moments when Puljujarvi looks as though he's taken that next step. Fourteen goals and 36 points in 65 games was a nice improvement, and his defensive ability was proven (at least through the underlying metrics). But then in the playoffs, he once again disappeared for long stretches and saw his ice time slashed dramatically.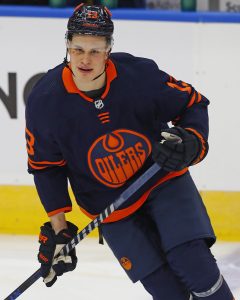 Coming off a two-year contract and needing a qualifying offer of $1.41MM, Puljujarvi could take the Oilers to arbitration if they let it get that far. Where he fits into next season's roster is still anyone's guess.
F Kailer Yamamoto – The 23-year-old Yamamoto, meanwhile, experienced a nice rebound campaign this season, tallying 20 goals and 41 points after his disappointing 2020-21 performance. Undersized but scrappy, the 2017 first-round pick is also eligible for arbitration and is owed a qualifying offer of just $1.175MM. Given the team's cap constraints, a long-term deal may be out of the question, but Yamamoto appears to have solidified his place in the top-nine, even if his two-goal playoff performance wasn't quite up to snuff.
F Ryan McLeod – Another top pick, another uncertain future, as McLeod enters free agency for the first time without arbitration rights. The 22-year-old center scored just nine goals and 21 points in the regular season but has a blend of size and speed that can't be easily replaced. There's probably not ever going to be huge offensive upside–especially given the role he'll be asked to play in Edmonton–but McLeod figures to be a regular again next season and likely take on even more defensive responsibility down the middle.
Other RFAs: F Tyler Benson, F Brendan Perlini, F Ostap Safin, D Filip Berglund
Key Unrestricted Free Agents
F Evander Kane – There's no mistaking the Oilers' interest in re-signing Kane, and from a purely on-ice perspective, it's easy to understand why. The big winger scored an incredible 22 goals in 43 games during the regular season and then posted another 13 in the playoffs. That still led the entire postseason despite Kane playing just 15 games, showing just how important Kane could be to Connor McDavid and Leon Draisaitl as a potential running mate moving forward. Still, when discussing Kane it can't be from just an on-ice perspective, as turmoil has followed him all over the NHL. Even now, his grievance with the San Jose Sharks over wrongful termination is still undecided, meaning a new contract could be delayed well past the opening of free agency.
D Brett Kulak – When the playoffs rolled around, Kulak was arguably one of the Oilers' best defensemen, acquired from the Montreal Canadiens for a second-round pick (plus William Lagesson and a 2024 seventh). Armed with an elite defensive stick and strong gap control, the 28-year-old Kulak would be a nice fit for the third pairing in Edmonton moving forward, as long as they can get him back on a reasonable contract. Even then, perhaps the team will go in a different direction given the youth that is coming through the system by way of Philip Broberg, who should challenge for a full-time role next season, and the continued presence of veterans Duncan Keith and Tyson Barrie.
Other UFAs: F Josh Archibald, F Derick Brassard, F Colton Sceviour, F Kyle Turris, F Cooper Marody, D Kris Russell
Projected Cap Space
If you currently navigate to the Oilers' CapFriendly page, you'll see a nice cap space total of more than $7.1MM. Unfortunately, that is for a roster of just 15 players, meaning there is plenty of work to be done for general manager Ken Holland to fit everyone in. Just assuming the remaining eight spots are filled by league minimum $750K players it would eat up $6MM, meaning there isn't a lot of wiggle room for improvement (or arbitration awards). Of course, with Oscar Klefbom's contract still headed for long-term injured reserve, and at least some suggestion that Keith could retire before the 2022-23 campaign, that number could change dramatically.
Even so, with the Oilers pushing hard to sign Kane to a big contract, there still could very well be some cap casualties in Edmonton. This group pushed further into the playoffs than in years past and knows that McDavid and Draisaitl are good enough to lead them all the way. Making sure they spend every dollar effectively is absolutely crucial for Holland and his staff this summer.
Photo courtesy of USA Today Sports Images