The Pittsburgh Penguins have agreed to terms with pending free agent forward Bryan Rust, keeping him in the organization long-term. Rust has agreed to a six-year contract worth a total of $30.75MM, an average annual value of $5.125MM. Penguins general manager Ron Hextall released a statement explaining:
Bryan exemplifies what it means to be a Pittsburgh Penguin. Since being drafted by Pittsburgh, he has developed into a versatile player and leader on our team, capable of contributing in any situation. His leadership qualities and experience as a two-time Stanley Cup champion is an important piece of our team.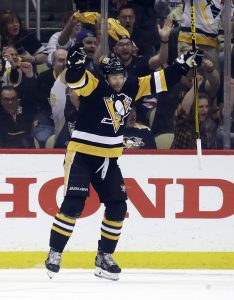 While Evgeni Malkin and Kris Letang take up most of the headlines in terms of pending free agents in Pittsburgh, Rust sat as arguably the most valuable of the three, at least when it came to a long-term extension. The versatile forward turned 30 just a few days ago and has been one of the team's most consistent offensive performers over the last three seasons.
Consistent of course, only when Rust was actually in the lineup. When he played every game in the shortened 2020-21 campaign, it was the first time he'd accomplished the feat in his career. With a career-high of 72 games, and only 60 this season, there's a fair argument that Rust–or at least the way he plays–brings more risk than the average player on a contract like this.
Still, an average annual value under $6MM for a forward that has been close to a point-per-game player for three years running is a nice bit of business for the Penguins, even if it does come at the cost of a few extra years. Rust has scored at least 22 goals in three straight and had 58 points this season. His play in the postseason has also been strong, with 21 goals in 79 career playoff games, including the two Stanley Cup runs in 2016 and 2017.
It's that playoff-style hockey that is so appealing about Rust's game, and what would have likely drawn plenty of interested parties had he reached the open market. Now, with him firmly in the mix for the next six years, the team can turn their attention to Malkin and Letang once again.
Darren Dreger of TSN broke the news that the two sides were close, while Frank Seravalli of Daily Faceoff filled in the details. 
Photo courtesy of USA Today Sports Images