The Toronto Maple Leafs once again were unable to get out of the first round of the Stanley Cup Playoffs, once again losing a game seven after having an earlier chance to end the series. With the season over, players, coaches, and management met with the media today to discuss what went wrong and where they will go from here.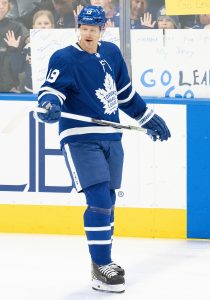 One of those players has a very uncertain future. Jason Spezza will turn 39 in less than a month and is scheduled to become an unrestricted free agent this summer. The second-overall pick from 2001 is just five points away from 1,000 for his career after having another successful year in Toronto, contributing 12 goals and 25 points in extremely limited minutes. Since arriving in 2019, the veteran forward has averaged fewer than 11 minutes a night for the Maple Leafs, but still has 80 points in 183 games, giving their fourth line some offensive juice whenever possible.
When asked about his future, however, Spezza seemed to have no real understanding of whether he'd be back in a Maple Leafs sweater next season. He told reporters that he feels "a little lost right now," but added that he would not play for any other organization at this point in his career. He'll speak with his family and the management team to see if there is a place for him next season, or whether it's time to retire.
If he isn't back, it has been quite the career. Spezza has played in 1,248 regular season games, split between the Maple Leafs, Dallas Stars, and Ottawa Senators, where he first burst onto the scene as a super-skilled center that could routinely put up huge offensive numbers. In 2008 he scored a career-high 82 points in just 76 games, a year after taking the Senators to the Stanley Cup Final with a playoff-leading 22 points in 20 games.
Spezza currently sits 94th all-time in points and 97th all-time in games played.
Photo courtesy of USA Today Sports Images