The first full week of May yielded some coaching news around the league as well as plenty of salary cap penalties; those are among the headlines in the top stories of the week.
Yeo Out: The Flyers will have a new head coach behind the bench season when they announced that Mike Yeo would not be retained in that role.  After serving as an assistant on Alain Vigneault's staff, Yeo was elevated to the interim role when Vigneault was let go but the coaching change didn't spark the team as they went 17-36-7 following the move while finishing behind everyone but Arizona in goals scored.  Philadelphia is keeping the door open for Yeo to remain with the team in a different role although they certainly won't be stopping him from interviewing for other opportunities around the league.
Another Coaching Search: The Jets were another team that had a midseason coaching change, though it came due to Paul Maurice's resignation instead of his firing.  Dave Lowry took over but the team wasn't able to turn things around under him, posting a 26-22-6 record and missing the playoffs.  That has resulted in some changes as well with assistant coaches Charlie Huddy and Jamie Kompon being let go.  As for Lowry, he will be granted the opportunity to interview for the full-time coaching job but that's as far as GM Kevin Cheveldayoff is willing to go at this time so they will be going through a full coaching search as well.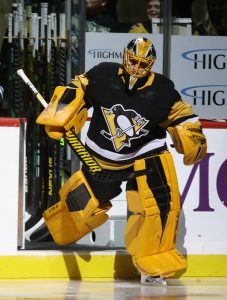 Surgery For DeSmith: Generally speaking, a backup goaltender undergoing surgery wouldn't be big news.  However, it certainly is for the Penguins as they'll be without Casey DeSmith for the rest of the playoffs after he underwent core muscle surgery.  With Tristan Jarry still unavailable as he works his way back from a broken bone in his foot, journeyman Louis Domingue has become Pittsburgh's starter by default.  It's a tough blow on multiple fronts – the Penguins are now dressing their AHL goalie tandem while the 30-year-old also loses a prime opportunity to showcase himself before he hits the open market for the first time this summer.
Morin's Career Ends Early: It has been a tough last few years for Philadelphia defenseman Samuel Morin.  He has had several significant knee injuries derail what looked to be a promising career and his latest one – which kept him out for all of this season – has now ended his career at the age of 26.  Morin was a first-round pick back in 2013 (11th overall) as a big, physical, stay-at-home blueliner.  But when the injuries started, they just kept on coming.  Morin was able to get into 20 games last season but some of those came as a winger.  In the end, he hangs up his skates with just 29 career NHL contests with one goal, 45 penalty minutes, and 66 hits.  The Flyers have indicated that they may look to find another role for him to keep him in the organization in some capacity.
Cap Penalties: The salary cap is only increasing by $1MM next season to $82.5MM so many teams will be feeling the squeeze once again.  On top of that, nearly half the league will face a bonus carryover penalty from this season with 14 teams set to receive one.  Colorado finds itself at the low end of that with just a $25K overage while at the other end, three teams (Montreal, Vancouver, and St. Louis) are all at $1MM or more with the Blues potentially on the hook for another $250K depending on how deep they go in the playoffs which will certainly affect their offseason spending plans.
Photo courtesy of USA Today Sports Images.