Marian Hossa's 12-year contract finally expired at the end of last season, though he had not actually played in an NHL game since the 2016-17 campaign. Now that his time as an Arizona Coyote is over, he's free to sign anywhere as an unrestricted free agent. He'll do so by inking a one-day contract with the Chicago Blackhawks on Thursday, in order to officially retire as a member of the team.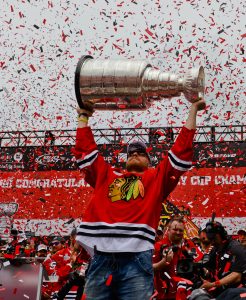 Hossa, 43, didn't start his career in Chicago. Selected 12th overall in 1997 by the Ottawa Senators, he quickly showed how he would impact the game. An excellent two-way player from the very beginning, he finished second to Chris Drury in Calder Trophy voting during the 1998-99 season and was receiving Selke Trophy votes by 2001. He would end up with the Atlanta Thrashers next, where he recorded his only 100-point season, and then would pop between contenders for a few years, reaching the Stanley Cup Final with both the Pittsburgh Penguins in 2008 and Detroit Red Wings in 2009.
Both teams would end up losing, leading to jokes about Hossa being a bad luck charm in the playoffs. He'd put that notion to rest in 2010, when he joined the Blackhawks and helped them to the first of three Stanley Cup championships. Over eight seasons in Chicago, Hossa would rack up 415 points in 534 games, while still being considered one of the very best defensive wingers in the game. In all, he received Selke votes in 13 different seasons, reaching as high as fifth in 2014 at the age of 35.
Throughout his entire career, the Slovakian forward would record 1,134 regular season points in 1,309 games, putting him among the best of all time. He sits 59th in career points and 61st in games played. Even better are his 149 playoff points, which puts him 30th all-time. In 2020, before his NHL contract had even officially expired–Hossa was forced out of the game due to a skin condition–he was chosen to enter the Hockey Hall of Fame. Two years later, he'll now officially retire where he won it all.