The Arizona Coyotes have six games remaining in the regular season to secure last place and the top odds for the 2022 draft lottery. They sit two points behind the Montreal Canadiens and have lost seven in a row, though at least part of those struggles has been because of a swathe of injuries. Two more players have now been ruled out for the rest of the year, as Craig Morgan of PHNX Sports tweets that both Jakob Chychrun and Christian Fischer will not return in 2021-22. Among the Coyotes' injured players, only Antoine Roussel and Liam O'Brien have a chance of returning, according to Morgan.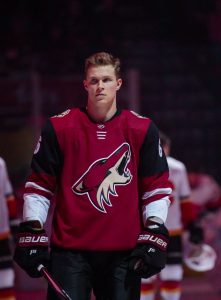 Chychrun, 24, will once again be a target of headline writers across the hockey world this summer. The young defenseman was on the trading block for most of the year, but the Coyotes decided to hold on after not getting the offers they were looking for. His last game of the season was on March 12, when he exited a match against the Boston Bruins after less than six minutes of ice time.
While there's not much to play for in the desert and losing is actually arguably more beneficial at the moment, Chychrun's recent absence will do nothing to change the perception of him as an oft-injured risk. Through six full seasons in the NHL he has played just 337 game, an average of just over 56 per year (two of those seasons have been shortened by COVID-19) and he will finish with just 47 this time around. He actually had been playing the best hockey of the season just before going down, recording five goals and ten points in the six games preceding his injury.
Now he enters an uncertain offseason with three more years on his contract, and an organization that seems committed to a long rebuild. As one of the team's biggest assets, Chychrun could still bring back a number of future pieces, but it's unclear who exactly will be willing to pay the high price that general manager Bill Armstrong has set. Earlier this season reporting surfaced that the team was looking for three top assets–obviously, a price that was never met.
Fischer too faces an uncertain future in the desert. The 25-year-old forward has never been able to replicate the 15-goal, 33-point rookie season he had in 2017-18 and finishes this year with just five goals and ten points in 53 appearances. He now has just 43 goals in his 318-game career, and has settled into a depth role in the bottom six. A restricted free agent this offseason he will be eligible for salary arbitration and could be another piece moved out of town, should the team feel as though he's not part of the long-term future.
Photo courtesy of USA Today Sports Images