For the first time since July 7, 2021, Carey Price will start a game for the Montreal Canadiens this evening. The team confirmed that the star goaltender will be activated and play in tonight's game against the New York Islanders, starting his first game since making 29 of 30 saves in a losing effort against the Tampa Bay Lightning in game five of last year's Stanley Cup Final.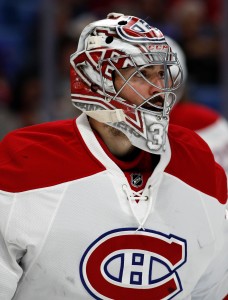 Without him this season, things have not gone according to plan. The Canadiens got off to a brutal start, costing head coach Dominique Ducharme and general manager Marc Bergevin their jobs, as the team floundered at the very bottom of the NHL standings. Since Jeff Gorton, Kent Hughes, and Martin St. Louis have taken over things have been improving, though the Canadiens are still nowhere near good enough to compete in the Atlantic Division and were eliminated from playoff contention weeks ago.
Even with very little to play for, Price's return is a huge positive for the Canadiens. One of the highest-paid players in the league, the netminder carries a $10.5MM cap hit that cripples Montreal's roster construction if he's not performing at his best. Looking ahead to next season, the team has little chance of competing for a playoff spot without Price healthy and playing on a regular basis.
His return tonight will be an incredibly emotional moment for the netminder and the organization as a whole. A franchise icon even among such a storied history, Price will turn 35 in August and is coming off another serious injury, along with mental health and substance abuse struggles that led him to take time away from the game earlier this season. In November, he released a long statement explaining his absence, asking for privacy as he checked into a residential treatment facility for substance abuse and entered the NHL/NHLPA Player Assistance Program.
The question now becomes his long-term outlook and whether he can get back to the goaltender that led Montreal through the playoffs last season, or even the one who was seventh in Vezina Trophy voting in 2019. A career .917 save percentage has been dragged down considerably by his past two campaigns, when he posted a .909 in 2019-20 and a .901 in 2020-21.
At any rate, he'll be back on the ice tonight searching for win 361, which would inch him even further up the all-time leaderboard and toward the storied 400-win club. Only 13 netminders in history have achieved that number, with Ryan Miller the next closest at 391. Price, who is signed through 2025-26, already sits comfortably in first among Canadiens goaltenders, 46 wins ahead of Jacques Plante.
Photo courtesy of USA Today Sports Images