The San Jose Sharks have maintained throughout the early part of the season that they would work hard to extend Tomas Hertl instead of trading him, and they have followed through on that promise. The two sides have agreed on an eight-year extension that will keep Hertl in San Jose through the 2029-30 season. Though the team did not immediately report the financial terms of the deal, but Pierre LeBrun of The Athletic reports that it will carry an average annual value of $8,137,500. The deal also includes a full no-movement clause in the first three years and a limited no-trade clause in the last five.
Acting general manager Joe Will released a lengthy statement on the deal, which includes:
By agreeing to this contract, Tomas is cementing his path with the Sharks, following in the footsteps of some incredible players who have worn the Sharks crest. He has shown that he wants to play in San Jose for years to come and it shows his dedication to the organization and community since he joined the team in 2012. We are thrilled to have Tomas for another eight years.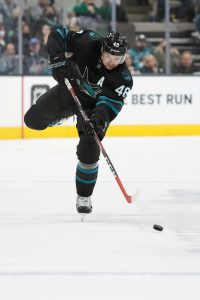 Hertl, 28, is in the final season of a four-year, $22.5MM contract signed in 2018 that carries a cap hit of $5.625MM. Notably, that deal includes a no-trade clause that allows the Sharks' forward to block deals to all but three teams in the league. That would have made trading him even more difficult, though there never did seem to be an appetite for a split from either party.
While he has slowed down considerably over the last two months, Hertl is still having an excellent season with 25 goals and 48 points in 59 games for the Sharks, trailing only Timo Meier in terms of offensive output. He's now being rewarded for his strong play with a contract very similar to captain Logan Couture, the team's other star center that carries much of the offensive load. With Evander Kane's contract off the books (pending a grievance), the Sharks did have some extra cap space to spend.
Still, signing another big-money, long-term deal will certainly raise eyebrows. The Sharks aren't really in the playoff race this season and now have five players on the books through at least 2024-25 at a cap hit of $7MM or more. Hertl is actually the youngest of that group and is still now signed through his age-36 season. It's hard to really know what direction the team is going; maybe those veteran talents are enough to carry them to the next level, or perhaps they're going to turn into anchors that keep the Sharks at the bottom of the Pacific for years to come.
At any rate, Hertl gets to stay with the only franchise he's ever known, and continue to pile up points as one of the team's most important players. He has scored 371 points in his 562-game career, numbers that already put him seventh among the Sharks' all-time scoring leaders. He has a long way to go to catch some of the players in front of him–Patrick Marleau and Joe Thornton lead the group at 1,111 and 1,055 points respectively–but another eight years could very well mean he spends his entire career in San Jose.
For the rest of the NHL, a top trade target comes off the board, making other centers all the more valuable before Monday's deadline. If teams were interested in the Sharks forward, they'll have to pivot over the next few days.
Other pending free agents like Nazem Kadri also must be smiling when they see Hertl's number come up, as there are certainly some red flags with a deal like this. Not only is he now signed well into the normal decline phase of an NHL player but Hertl also has never even scored at a point-per-game rate. His closes was in 2018-19 when he had 35 goals and 74 points in 77 games, and no one doubts his talent as a difference-maker. But someone like Kadri, with 73 points in 58 game this season, or even top free agent wingers like Johnny Gaudreau (78 points in 59 games) and Filip Forsberg (55 points in 47 games) should all be able to demand huge salaries this summer as the league's finances start to rebound.
Photo courtesy of USA Today Sports Images