With just 48 hours remaining before the 2022 NHL trade deadline, things are heating up around the league. Several big moves have already been made, with Josh Manson, Brandon Hagel, Calle Jarnkrok, and Ben Chiarot all traded to contenders. There's more coming before Monday's deadline, with Claude Giroux and others still yet to be moved.
As we get closer, it's time to unearth one of our old features: The PHR Panel. This time it'll come with a bit of a twist as instead of answering questions, we're going to have a bit of fun. Each of us will give one prediction for a deadline move, and we encouraged each other to go a bit outside the box if necessary. These deals are completely speculative and just done for fun–but make sure you tell us why we're out of our minds in the comments!
Q: Suggest one trade that makes sense at this year's deadline.
Brian La Rose: Pittsburgh trades Kasperi Kapanen, Marcus Pettersson to Vancouver for Conor Garland, Travis Hamonic
With all of the smoke surrounding Vancouver, it sure feels like the Canucks are going to do something. We all know team president Jim Rutherford is a big fan of Kapanen and he's the one who gave Pettersson a five-year, $20.125MM contract that hasn't aged very well. Clearly, he's also a believer in him. On the other hand, he's not the one that brought Garland in from Arizona and if they want to shake up their core, he could be the one to go instead of the likes of J.T. Miller or Brock Boeser. GM Patrik Allvin is also quite familiar with both players from his days in Pittsburgh and knows what he'd be getting with those two.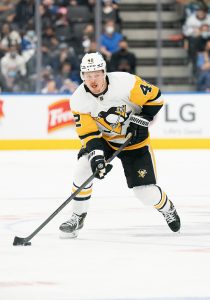 For the Canucks, they add two players that Rutherford is quite comfortable with and their hope is that Kapanen will be a better long-term fit than Garland who has quieted off after a hot start to the season. Pettersson fits as a potential partner for Tucker Poolman when he's healthy on Vancouver's third pairing.
As for the Penguins, Garland on the wing for one of Sidney Crosby or Evgeni Malkin (likely the latter) would be an opportunity for him to step into the scoring role that Kapanen was supposed to provide while Hamonic would help to shore up their third pairing. His shorter-term contract than Pettersson (he's only signed through next season) would be easier to move this summer than Pettersson's if Pittsburgh needs to free up money to try to re-sign Malkin, Kris Letang, or Bryan Rust. Team president Brian Burke helped bring Hamonic to Calgary from the Islanders back in 2017 and that familiarity could help here as well.
From a cap perspective, it's pretty close to neutral this season. Pittsburgh adds $725K to their books, an amount that can be offset by simply sending Radim Zohorna to the minors for the time being. Garland has one extra year left than Kapanen but is at a price tag that's somewhat similar to what a long-term contract for Kapanen will cost. That will make the cost for Vancouver a little higher beyond this season but nothing overly drastic. In the end, it's an old-fashioned 'hockey trade', one we could see a few of before Monday with so many teams right against the cap where player for player swaps will be their only realistic option.
Zach Leach: Los Angeles Kings acquire Mark Giordano
It has been very quiet out of Los Angeles with the trade deadline looming. Though they have been linked to available names here and there, they have not been painted as an active buyer. Is the young team merely content with their current squad? Or are they simply lurking in the background and waiting for the right time to strike? I believe that it's the latter. The Kings have every reason to fight for a playoff spot this season. They have aging core players eager to make another run, promising young players who could desperately use some postseason experience, and find themselves in the weakest division in the NHL with a real chance to make a run to the Western Conference Final (and perhaps beyond). GM Rob Blake has shown a willingness to spend on prime talent of late with the Phillip Danault signing and Viktor Arvidsson trade and I would expect him to do so again with his team in a great spot in the Pacific.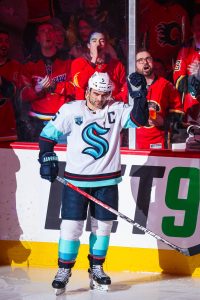 Perhaps the hesitancy from the media to project major moves from the Kings comes from a lack of believability–which is somewhat well-founded. L.A. has been willing themselves to victory this season despite some concerning numbers. The team ranks second-worst among current playoff-seeded clubs in goal differential at +2, just a few unlucky bounces away from a net negative mark. Special teams have also been a nightmare; the Kings are ranked in the bottom five in both power play and penalty kill efficiency. L.A. is also below average (or worse) in scoring, hits, blocked shots, and takeaways. Pretty bleak, huh? Yet, they play a smothering defensive system and possession game that allows the fewest shots against the in the NHL and as a result, are one of the goals against leaders in the West.
So why add a defenseman? First of all, in the case of a team with numerous holes, there's something to be said for identifying a strength and leaning into it. Plus, the injury-plagued Kings are currently out four starting defensemen, including Drew Doughty, Matt Roy, and Mikey Anderson, with Sean Walker done for the year and Alex Edler only just returning. The defense may be a strength in L.A., but they need some immediate help to keep it going.
More importantly, Mark Giordano is no ordinary defenseman. The Seattle Kraken captain is the most experienced top-four defender on the trade market with over 1,000 games played and continues to perform like a player in his prime. Even for a struggling expansion team, the 38-year-old has managed to record 23 points in 55 games and has improved his possession numbers from the past two years in Calgary. Giordano does everything that the Kings need more of; he leads the Kraken in Corsi and powerplay time on ice, is among the top three skaters in time on ice, powerplay points, shots, and blocked shots, and is among the top five skaters in assists and short-handed time on ice. On a more talented team with a strong defensive system, Giordano will only improve. Given the Kings' poor blue line depth, it also helps that Giordano is used to eating minutes (23:35 average time on ice over the past 13 years) and has largely stayed healthy in his career. He would be well-equipped to take over a top pair spot in L.A. and eventually join with Doughty to create a formidable pairing of past Norris Trophy winners. The Kings thought that they were creating a dynamic veteran duo when signing Edler this off-season but it hasn't worked out. They now have a second chance.
We know that the Kraken are going to deal their captain. Even though Giordano is the locker room leader for the league's newest team, his expiring contract and high trade value will force GM Ron Francis's hand. Giordano is currently sitting out in anticipation of a trade, protecting a prized asset–especially after the Josh Manson and Ben Chiarot trades set a high bar for top-four rentals. The Kings can offer Seattle return options that most other contenders cannot. First, they do not need to ask Seattle to retain much, if any, of Giordano's $6.75MM price tag as their numerous injuries allow them to create additional LTIR space while eventually they will still have room for all of their currently sidelined players on the active roster outside of Walker. Additionally, while most contenders are trying to push draft picks and long-term project prospects on Seattle, the Kings are littered with elite, NHL-ready prospects. So much so in fact that the team could send one or two to Seattle for Giordano and still have plenty to send to Arizona for Jakob Chychrun in the off-season (another player that they have been linked to but whose injury status could delay a trade). The Kraken should want to improve next season rather than enter a rebuild already. Opting to send Giordano to L.A. in exchange for a player like Gabriel Vilardi, Rasmus Kupari, Jaret Anderson-Dolan, Alex Turcotte, Samuel Fagemo, Akil Thomas, or others (see what I mean by prospect depth?) is a long-term benefit but more helpful in the short-term than acquiring picks or prospects that are years away from contributing. Giordano's familiarity with the Pacific Division, namely the division-leading Flames, is just the cherry on top of a deal that seems to be a great fit.
Josh Erickson: New York Rangers acquire Mark Giordano
It's no secret that MVP-caliber goalie Igor Shesterkin has been the largest impetus of the Rangers' success this season, catapulting them into a sure-fire top-three spot in the Metropolitan Division come season's end. But the team has started to slip in recent weeks and their five-on-five play, particularly defensively, is now starting to expose cracks that have been forming all year. While no single acquisition will likely fix a team-wide issue like this, the need for a veteran left defenseman at this point is just too glaring to ignore.
As Zach details above, Giordano can be a difference-maker even at this point in his career. The Rangers can comfortably deal either their 2022 or 2023 first-round selection to Seattle, and the team also has a large number of prospects that the Kraken would be interested in taking on as well (is this a chance for Vitali Kravtsov to get a new start?).
They've gotten solid performances out of their top four defensemen all season, but the bottom pairing has become an issue. Patrik Nemeth has created more problems than he's solved with his play this season, and while Giordano's offensive game has dipped with age this year, he's still been solid defensively. He's a logical fit either next to Adam Fox, allowing Ryan Lindgren to draw more favorable matchups, or he can slot in on the third pairing and help mentor the young Braden Schneider as the Rangers go down the stretch run.
John Gilroy: Minnesota Wild acquire Andrew Copp
Still holding onto a playoff position in the Central Division but vulnerable, the Minnesota Wild could use a spark in their lineup, and with $11MM in cap space on deadline day, the Wild are poised to make a splash. In addition to cap space, the Wild also hold all but one of their draft picks over the next three years, missing only their 2022 seventh-round pick. One spark that seems to make plenty of sense for Minnesota is Winnipeg Jets' forward Andrew Copp.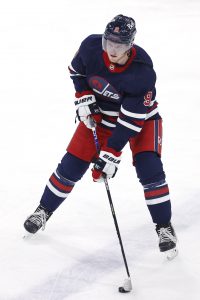 Copp, 27, is currently making $3.64MM and is a pending UFA, but could certainly slot into Minnesota's long-term plans if they can re-sign him. The forward currently has 13 goals and 19 assists in 54 games for Winnipeg this season, which would put him tied for fifth on the Wild in points. However, Copp's talent is not limited to his offense, as he currently profiles as a strong penalty killer for the Jets and is incredibly responsible, recording just eight penalty minutes in 54 games this season, and just 82 penalty minutes in 465 career games.
One concern might be the return for Copp. While the Jets are not in playoff contention, they do not appear headed for a rebuild, having a majority of their core signed or under team control through at least 2023-24. Trading Copp for draft picks, which the Wild have plenty of, would return his value, but may not make much sense for the Jets if they intend to win soon. One player that may make sense in a return for Copp would be prospect Jack McBain. The 22-year-old McBain has been the center of trade rumors recently for Minnesota, as he is eligible to hit free agency this summer. However, McBain, who is from the Toronto area, may also prefer to sign closer to home.
Ultimately, it appears that Copp is on his way out of Winnipeg, and if the two sides can come to terms on a suitable return, it would be in the best interests of the Wild to make a move for an energetic and well-rounded forward to spark a team that has struggled mightily as of late.
Gavin Lee: Detroit Red Wings trade Nick Leddy (50% retained) to St. Louis Blues for Klim Kostin, Marco Scandella
"Stevie Y is up to something." That's the text that Emily Kaplan of ESPN received this week, as the Red Wings prepare for the deadline in an interesting position. The team obviously isn't good enough yet to contend for the Stanley Cup but has the building blocks to start pushing for a playoff position as soon as next season. With that in mind, targeting young players that have yet to make an impact makes sense, instead of just collecting draft picks like deadlines past.
Leddy has been linked to the Dallas Stars in recent days, and while they make sense, it seems more likely that they're offering up a package of futures, instead of someone like Kostin who could impact the Red Wings lineup down the stretch and next season. The 30-year-old Leddy isn't the player he once was but can still make an impact in a more limited role, something he could receive in St. Louis as they try to work their way back to the Stanley Cup.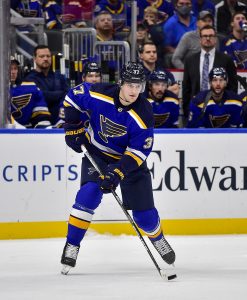 You aren't going to steal Kostin out of St. Louis for a few months of a depth defenseman though, so Detroit would need to provide some other value to the Blues. That's where Scandella comes in, as the 32-year-old has taken a noticeable step back this season and is signed through 2023-24 at a $3.275MM cap hit. The thing is, for a team like the Red Wings, acquiring a cap hit like Scandella is almost meaningless given how much financial flexibility they've built, and he could essentially replace the veteran presence of Marc Staal next season. Scandella does hold a partial no-trade clause, but how likely is it that Detroit is one of the seven teams he has blocked?
The prize here is Kostin, a player that has struggled to find regular minutes in St. Louis. Since being selected 31st overall in 2017, the big forward has spent most of his time in the AHL, playing in most of three seasons before even making his NHL debut and now ending up back there this year. There's a risk here for Detroit; Kostin isn't signed past this season and could bolt for the KHL as a restricted free agent this summer, but there's also a possibility that he establishes himself quickly as a middle-six option for a rebuilding club.
A second-round pick is nice, sure, but at some point, the Red Wings will have to start looking at players closer to the NHL. Kostin is exactly that, and the teams have a recent history of something just like this. In 2019, Detroit acquired Robby Fabbri from the Blues in exchange for Jacob de la Rose, and gave him an opportunity he wasn't ever going to receive in St. Louis after major knee surgery. Kostin hasn't been blocked because of injury, but perhaps the Red Wings could provide a similar chance for him to play more than the nine minutes he's averaged over his 46-game career to this point.
Photos courtesy of USA Today Sports Images.