The Montreal Canadiens, perhaps influenced by the recent injury to Jakob Chychrun, have decided to protect their prized trade deadline asset and will scratch Ben Chiarot for tonight's match according to several reports including Frank Seravalli of Daily Faceoff.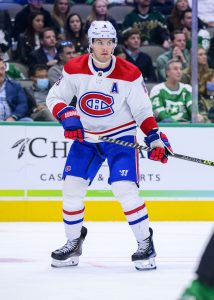 It should come as no surprise that Chiarot will be traded, as his name has been in the rumor mill basically from the moment the season began. The 30-year-old defenseman is in the final season of a three-year, $10.5MM contract signed in 2019 and carries a cap hit of just $3.5MM. That number, especially if the Canadiens retain a portion of it, is one that many of the league's top contenders could fit into their salary structure at this point in the season.
While he usually doesn't bring much offensive upside, Chiarot has actually showcased extremely well for the Canadiens of late, racking up six points in his last five games (and nine in his last nine) including a two-goal effort against the Calgary Flames earlier this month. He's now averaging more than 23 minutes a night on the season a number that has only gone up in recent games when he's been averaging close to 25. Beyond all he's done in the regular season, there's one thing that is still driving the market for the Canadiens' big defenseman–his play in last year's postseason.
There is a perception that Chiarot, alongside Shea Weber and often playing with Philip Danault, was a huge part of the team's Cinderella-like run to the Stanley Cup Finals. The length, physicality, and toughness of Chiarot are considered a perfect mix for the playoffs, though there are also a few misconceptions about his play last year. In the 285 minutes he played beside Weber at five-on-five, Chiarot's results were great, allowing just nine goals against despite some tough matchups. But his numbers away from the Canadiens' captain absolutely plummeted, to the point where Montreal was actually outscored 23-16 with Chiarot on the ice overall at even strength.
That should at least raise a bit of concern for contenders looking to pay a hefty price to add the defenseman, especially since this season, again without Weber, the Canadiens have been outscored 59-40 at even strength with Chiarot on the ice. A big part of that is the overall strength of the team and the tough defensive deployment he faces nightly but he's also not a lock to improve a team's play, at least not at the first-round pick cost that has been discussed.
Yesterday, a player in a similar situation–Josh Manson of the Anaheim Ducks–was dealt for a second-round pick and a top prospect. If Chiarot's bringing back something like that for the Canadiens, it would make sense why he's being pulled from the lineup. The risk of injury is too great, especially given the recent scare they had when he suffered a minor issue.
Montreal has three games left before the trade deadline, but Pierre LeBrun of The Athletic notes that trade talks have picked up in recent days. If he is finished in a Canadiens sweater, Chiarot will leave with 17 goals and 46 points in 164 regular season games.
Photo courtesy of USA Today Sports Images