March 30: The contract is now official. A two-year deal that will carry a cap hit of $2MM.
March 29: When the Minnesota Wild signed Alex Goligoski to a one-year, $5MM contract in the offseason, it came with the expectation that the team would offer him another extension at a much-reduced cost. That would allow the team to spend a little bit more this season when they have some extra cap space, and less in the coming years when they have to deal with hefty buyout penalties due to Zach Parise and Ryan Suter.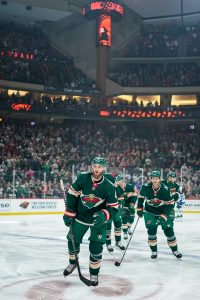 That's exactly what is about to happen, as Kevin Weekes of ESPN reports the two sides will soon announce a two-year extension. Michael Russo of The Athletic confirms the deal, and adds that it will carry an average annual value of $2MM.
If seen as a three-year, $9MM deal, it certainly makes sense from the Minnesota side of things, as they will pay a little bit less in the tight 2022-23 and 2023-24 seasons. But Goligoski has also been a healthy scratch of late after the acquisition of Jacob Middleton at the deadline and will turn 37 this summer. That means this extension comes with some risk, even if it does carry a relatively low cap hit.
The veteran defenseman has been asked to do a lot less this year than usual, averaging just 19 minutes a night for the Wild, a sharp drop from the 23 he saw in Arizona the last two seasons. In fact, over the first 900+ games he played before coming to Minnesota, Goligoski averaged 22:39, while racking up 429 points in the process. That puck-moving ability hasn't left him just yet, as his offensive performance has still been strong for the Wild with 28 points in 58 games, which is actually tied for the team lead among defensemen, but Goligoski isn't the kind of do-it-all option he once was.
Still, as a solid contributor on a good team, there's reason to believe this might still end up a win for Minnesota. They have phenomenal depth on the blueline for this season and even if Goligoski takes a step back in the coming years, his cap hit is low enough that it shouldn't drastically affect the team's fortunes.
Photo courtesy of USA Today Sports Images