Feb 13: Hertl continues to be a hot topic among the Sharks fanbase and media. Today, a piece by The Athletic's Corey Masisak breaks down a whole host of potential comparables for a Hertl contract. He names Mika Zibanejad as one of the closest possible comparisons for Hertl, with Zibanejad signing an eight-year, $68MM extension this offseason.
Feb 12: Today, Hertl spoke on the subject with reporters including Curtis Pashelka of the Mercury News. He explained that though he can't guarantee a deal will get done, he would like to stay in San Jose if possible and play his entire career with the Sharks.
Feb 10: The San Jose Sharks are an interesting team to keep an eye on as the trade deadline approaches given their current position in the standings. The team has now lost three in a row and sits sixth in the Pacific Division, a long way from truly contending for the Stanley Cup. There's also one name that would draw a ton of interest if made available; Tomas Hertl is a pending free agent with 22 goals and 38 points in 46 games this season.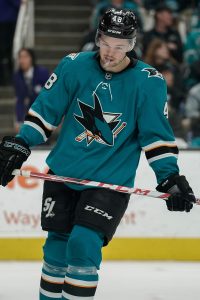 The Sharks have maintained for some time that they would rather sign Hertl to an extension as a core piece of the team, and Joe Will, who is serving as interim general manager while Doug Wilson deals with a health issue, spoke to Corey Masisak of The Athletic about that specific topic today. Will does "not have any interest" in doing anything outside of contract negotiations, suggesting that a trade is off the table at this point. He also stated that he believes Hertl wants to stay in San Jose long-term.
That would certainly follow what Hertl has said publicly to this point. In September, he hinted that he would even be willing to take less money to stay in San Jose if the team was competitive, not wanting to max out his earning potential somewhere else just to lose for the next chunk of his career.
Of course, while only focusing on extension talks may be his stance now, Will could be missing a huge opportunity to add assets to the organization if he allows the trade deadline to pass without a resolution one way or the other on Hertl's next deal. Contract negotiations can always fall apart, meaning if something isn't done in the next six weeks, there will be a difficult decision to be made.
Among players on expiring contracts, it's hard to find a more attractive mix of size, skill, and versatility than Hertl. The 6'3″ forward is a natural center but can also play the wing if necessary, is proficient on the powerplay and the penalty kill, has easy 30-goal upside, and only carries a cap hit of $5.625MM this season. The amount of value the Sharks could likely receive in a deadline deal is tremendous, but with any deal of that nature, it begs the question of whether that makes them a better team than signing Hertl long-term. If there is still a realistic shot at an extension, it's easy to see the draw of keeping him given his public desire to stay.
The Sharks have 16 games left before the March 21 trade deadline. While those are still the focus with the playoffs not completely out of reach, Hertl's future is certainly the biggest question mark in San Jose right now.
Photo courtesy of USA Today Sports Images