In the spirit of the holiday season, PHR will take a look at what teams are thankful for as the season approaches the midway mark. There also might be a few things your team would like down the road. We'll examine what's gone well in the early going and what could improve as the season rolls on for the Vegas Golden Knights.
What are the Golden Knights thankful for?
Fearless management and excellent pro scouts.
If there's one thing that George McPhee and Kelly McCrimmon have proven since the Golden Knights came into the league in 2017, it's that they are willing to make a big splash. Be it through trade–Mark Stone, Max Pacioretty, Robin Lehner, and Jack Eichel–or free agency–Alex Pietrangelo–they haven't been afraid to go after the top available names.
But even though McPhee and McCrimmon may get the press, it's been the pro scouting for Vegas that has been so impressive so far. Even moving past the exceptional job they did by identifying underutilized players like William Karlsson in the expansion draft, the case of Chandler Stephenson stands out as a huge example of why Vegas has been so successful.
Acquired from the Washington Capitals in late 2019 for a fifth-round pick, Stephenson was nothing more than a part-time bottom-six option. He had just three goals and four points in 24 games for the Capitals that season, but almost immediately found success in an increased role with Vegas. The team quickly extended him to a four-year deal, knowing they had a bargain on their hands. This season, Stephenson is proving he can be a legitimate top-line option, scoring 36 points through 38 games while averaging more than 19 minutes a game. Not bad for a 2021 fifth-round pick.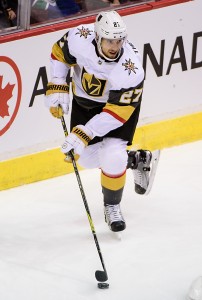 Who are the Golden Knights thankful for?
Speaking of pro scouting, another incredible success story in Vegas was the acquisition and subsequent extension of Theodore. Acquired from the Anaheim Ducks for expansion draft considerations–the Golden Knights would end up selecting Clayton Stoner's contract–Theodore arrived in Vegas with only 55 NHL games under his belt. He passed that number in the first year with the Golden Knights and the organization wasted no time locking him up.
He's not the only difference-making defender the Golden Knights have, but while Pietrangelo costs $8.8MM per season and will turn 32 in a few days, Theodore carries a cap hit of just $5.2MM through the 2024-25 season and is squarely in his prime at 26. Since the start of 2018-19, his first season without any time in the minor leagues, Theodore ranks ninth among all NHL defensemen in points.
What would the Golden Knights be even more thankful for?
A strong second half from Robin Lehner.
When the Golden Knights were forced to move Marc-Andre Fleury last summer in order to create cap space, the reaction among the fanbase was not good. A ton of pressure was put on Lehner to take over as the full-time starter, and though he hasn't failed exactly, it's not going great. The 30-year-old netminder is actually having the worst season of his career in terms of save percentage, notching a .905 through his first 27 appearances.
While that's still been good enough to record 15 wins with the strong Golden Knights team, and Lehner has been a bit better of late, a strong second half could put this team over the top. Remember, this is a goaltender had a .923 over the last three seasons and has twice taken home the Jennings Trophy as part of the tandem with the lowest goals-against-average.
What should be on the Golden Knights' wish list?
Some cheap cap relief.
Frankly, there's not much that the Golden Knights can actually add to their team at the deadline because of the cap situation they find themselves in. With Eichel approaching a return they will actually likely have to shed salary at some point, meaning the most important thing now will be getting something of value in return for whatever they have to send packing. Whether it's Reilly Smith, Evgenii Dadonov, or something else, other general managers will certainly have all the leverage in negotiations.
Still, Pacioretty's injury buys the team some time to work and the pieces they might decide to shed are still valuable players. From a front office that has worked out complex trades in the past, getting out of a little cap trouble doesn't seem like that big of an issue.
Photo courtesy of USA Today Sports Images