In the spirit of the holiday season, PHR will take a look at what teams are thankful for as the season approaches the midway mark. There also might be a few things your team would like down the road. We'll examine what's gone well in the early going and what could improve as the season rolls on for the St. Louis Blues.
What are the Blues thankful for?
The return to form from Vladimir Tarasenko.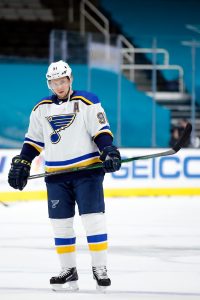 His trade request has been well-publicized but after he struggled upon returning last season, there was next to no trade market for him while Seattle took a pass on picking him up in expansion.  As a result, St. Louis wasn't able to honor that request.  They're certainly glad about that now.  The 30-year-old is having a resurgent season, averaging a point per game through 34 games.  That's the best point per game average of his career.
While it still seems like Tarasenko wouldn't mind moving on, the Blues – and GM Doug Armstrong, in particular – have to be quite pleased that the veteran has helped on the ice this season (including a team-high four game-winners) and off the ice as his trade value has only gone up.  Whether it's later on this season or in the summer, St. Louis will be better-positioned and will have considerably more leverage in any Tarasenko trade discussions.
Who are the Blues thankful for?
After a strong showing last season that saw him pick up 35 points in 55 games, the hope was that he had turned the corner and could become a consistent top-six scorer.  It's fair to say he did that and even more.  So far this season, the 23-year-old leads St. Louis in scoring, averaging more than a point per game and sits tied for 12th in points among all NHL players heading into Tuesday's action.  All of a sudden, he's a key cog in their offensive attack and with him under team control for at least the next three seasons after this one, he's someone that can be built around for a while.
What would the Blues be even more thankful for?
Jordan Binnington getting back to his old form.  This is only the third season since his improbable stretch that helped lead the Blues to the Stanley Cup but his numbers have ticked down each season since then.  This year, while he has held the .910 SV% he had from last season, his GAA has gone up by 35 points to 2.90 which is below average for a starter.  With Ville Husso still relatively unproven in the NHL (just 23 career starts), it would be hard for them to lean on him too heavily in the second half and considering this is the first of a six-year commitment to Binnington, they need him to improve his performance.  They're already one of the highest-scoring teams in the NHL this season and if Binnington can pick up his play, St. Louis could become a contender really quick.
What should be on the Blues' wish list?
With minimal cap space, any sort of move is going to be difficult to make.  But if Armstrong can find a way to bring someone in, an upgrade on the back end would certainly go a long way.  Robert Bortuzzo is more of a depth player at this point, Marco Scandella has had a quiet season, and youngsters Jake Walman, Niko Mikkola, and Scott Perunovich are unproven and have had varying degrees of success this season.  In a perfect world, someone that could step into their top four would be ideal but again, their cap situation would make that tricky.  If they can't do that, then an upgrade on the third pairing would still be one worth pursuing.
Photo courtesy of USA Today Sports Images.