In the spirit of the holiday season, PHR will take a look at what teams are thankful for as the season approaches the midway mark. There also might be a few things your team would like down the road. We'll examine what's gone well in the early going and what could improve as the season rolls on for the San Jose Sharks.
What are the Sharks thankful for?
A rebound from Erik Karlsson.
One of the more overlooked stories of this season has been the play of Karlsson, who has rebounded in a big way from his brutal 2020-21 campaign. Through 28 games he has eight goals and 22 points, is still playing more than 23 minutes a night, and has strong possession numbers once again. The 31-year-old isn't the all-world player he was pre-ankle surgery and he's not going to win the Norris Trophy, but his rebound is a big reason why the Sharks are competitive this season.
The worry at this point in his career is always injury, and Karlsson is currently on the shelf with an upper-body ailment. He could be back as soon as Tuesday though when the Sharks return for a five-game homestand.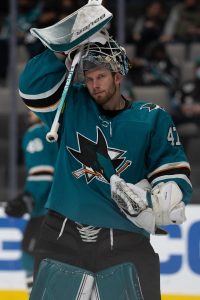 Who are the Sharks thankful for?
Despite his performances in the last couple of games, there's no real answer here other than the Sharks' starter. Reimer's numbers are coming back to earth, but it's because of his goaltending that the team is still in the playoff race in the Western Conference.
In 2019-20, San Jose was ranked 30th in save percentage at .895. In 2020-21, that number actually dropped to .891. This season Reimer's .916 is dragging them up to .910 overall, a respectable number that has them in games most nights.
What would the Sharks be even more thankful for? 
Some roster consistency.
Between injuries, illnesses, and COVID-19 protocol, there have been barely any games this season when the Sharks were icing their best lineup possible. Only three players have suited up for all 35 games–Brent Burns, Tomas Hertl, and Nick Bonino–and several important ones have missed as many as seven, a good 20 percent of the season so far.
There have been some great stories in San Jose. Even looking past the likes of Karlsson and Reimer, Alexander Barabanov has become a legitimate top-six option, Logan Couture is having another strong two-way year, and Timo Meier has re-emerged as a premier power forward in the league. All three of those forwards have missed multiple games, forcing the club to shuffle people around into roles they aren't really built for.
Every team has injuries, certainly, and this season's battle with COVID has been a struggle for everyone. But with the Edmonton Oilers and Calgary Flames coming back to the pack, there's a real opportunity in the Pacific Division playoff race. A consistent lineup could have the Sharks right in the mix.
What should be on the Sharks' wish list?
A Tomas Hertl decision.
Despite everything above, there is a real argument to be made in support of trading Hertl–and others–at this year's deadline, waving the white flag for this season and recouping a huge haul of future assets. It just doesn't seem that likely while the team is paying Karlsson, Burns, and Marc-Edouard Vlasic a combined $26.5MM for each of the next three seasons. A true rebuild would be difficult and costly with those contracts on the books, meaning unless the Sharks want to see Hertl walk for nothing in the summer, an extension can seem like the only option.
The problem though is what kind of a contract would even keep the 28-year-old forward in San Jose. Can the team afford to lock in another player to a long-term deal that takes him well into his thirties? His cap hit right now is $5.625MM, but on the open market that would likely balloon quite a bit as a center that can score at a 30+ goal pace.
Does a Hertl extension get the Sharks closer to a Stanley Cup? That's a difficult question to answer given the state of the franchise right now and the realistic outlook over the next few years. It's one they must make anyway, and soon.
Photo courtesy of USA Today Sports Images