In the spirit of the holiday season, PHR will take a look at what teams are thankful for as the season approaches the midway mark. There also might be a few things your team would like down the road. We'll examine what's gone well in the early going and what could improve as the season rolls on for the Pittsburgh Penguins.
What are the Penguins thankful for?
A return to form from Tristan Jarry.
Two years ago, he had a breakout season, earning himself an All-Star appearance and the confidence of the team as they opted to move Matt Murray, allowing Jarry to take on the number one role.  But last season was a significant step back for him, making goaltending one of the big question marks for Pittsburgh heading into 2021-22.  But to his credit, Jarry has bounced back quite nicely, posting a 1.92 GAA along with a .932 SV% in 24 starts so far this season, good for third in the league in both categories making the Penguins one of the top teams from a goals allowed standpoint.  Doing so is particularly impressive considering the rash of injuries they've dealt with throughout the season.  In the span of a few months, Jarry's play has moved him from being a question mark to a big strength for them.
Who are the Penguins thankful for?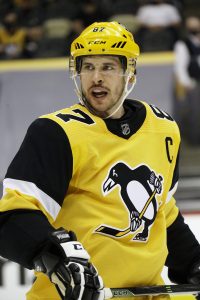 While there's a good case to be made for Jake Guentzel, it's hard not to take Sidney Crosby here.  He continues to be an elite center in the league even as he slows down a little compared to his performance in his prime.  He continues to log heavy minutes – perhaps more than they'd ideally like to play him with Evgeni Malkin missing the entire season so far – and he's over the point per game mark for the 17th straight season.  He remains the face of the franchise and even as he gets older, he can still produce at a high level.  The captain has been a significant bargain on the salary cap with an $8.7MM AAV since 2008 and he'll remain at that cost – a more than reasonable one for a top pivot – for three more years after this one.
What would the Penguins be even more thankful for?
Beyond a return to health for Malkin and their other injured players, getting Jason Zucker back to being a productive winger is something they'd be quite thankful for.  Notwithstanding the fact they paid a fairly high price to get him back in 2020, they're paying a fairly high price on the cap to have him as well at $5.5MM through the end of next season.  For a team that doesn't have a lot of flexibility, the stat line of four goals and seven assists in 30 games so far this year really stings.  Zucker returning to form would go a long way towards deepening Pittsburgh's lineup and restoring some trade value for the summer when he becomes a candidate to be moved.
What should be on the Penguins' Wish list?
Money is going to be tight for Pittsburgh, especially when Malkin is activated off LTIR.  Accordingly, it's hard to envision GM Ron Hextall being able to add a notable piece.  Instead, some low-cost depth upgrades are likely all they're going to be able to afford.  A veteran defender as an insurance policy would help as would an offensive upgrade in their bottom six.
Photo courtesy of USA Today Sports Images.