The Anaheim Ducks brought in franchise greats Paul Kariya and Scott Niedermayer to help out in their general manager search and now the Chicago Blackhawks are following their lead. Marian Hossa, Eddie Olczyk, and Patrick Sharp have agreed to join as a group of advisors to assist in the search for the team's next GM.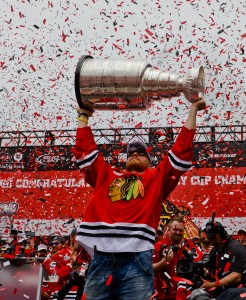 Hossa, a recent inductee to the Hall of Fame, spent eight seasons with the Blackhawks at the end of his career, winning the Stanley Cup three times. A legendary two-way forward that was as comfortable with the puck on his stick as he was backchecking the length of the rink, Hossa ended his playing career with 1,134 points in 1,309 regular season games and Selke Trophy votes in 13 different campaigns. The 12-year, $63.3MM contract he signed with the Blackhawks in 2009 only expired last summer, though he was forced to retire after the 2016-17 season due to a skin condition and the side effects medication was causing. His contract, which was just dead money at that point, was eventually traded to the Arizona Coyotes.
Olczyk meanwhile played 322 games for the Blackhawks, but it was split across two stints at the start and end of his career. Perhaps better known for his broadcasting work these days, as a player Olczyk was a great scoring talent who racked up 794 points in 1,031 NHL games. He too won a Stanley Cup, though it wasn't with Chicago and it wasn't in uniform; he raised the chalice with the 1994 New York Rangers despite being part of Mike Keenan's Black Aces in the press box through most of the playoffs.
Sharp, recently a broadcaster himself, was also a three-time Cup winner with the Blackhawks as a teammate of Hossa. The smooth-skating forward put up 620 points in 939 career NHL games, spending the vast majority of those matches with Chicago. Sharp is now a coaching advisor for the University of Vermont hockey program, and will now help find the next Blackhawks general manager.
The Blackhawks also announced that they have been working with Mike Forde of Sportology since the start of the process. Forde's work is best explained by the man himself on a recent episode of 32 Thoughts with Sportsnet's Elliotte Friedman and Jeff Marek.
Charlie Roumeliotis of NBCS Chicago reports that interviews for the position will begin this week.
Photo courtesy of USA Today Sports Images