With the trade market basically being non-existent at the midway point of the season, most of the biggest news in the NHL over the past seven days came away from the rink, including the rescheduling of over 100 games.
Flyers Injuries: On top of seeing their losing streak extend to 11 games marking the second stretch of at least 10 straight losses this season, Philadelphia also got hit hard by injuries to a pair of key forwards.  First, center Kevin Hayes will miss three to four weeks after undergoing a procedure to drain fluid from his adductor region.  The veteran has been limited to just 20 games this season with multiple IR stints plus a stint in COVID protocol.  Meanwhile, winger Joel Farabee will be out for up to four weeks with an upper-body injury.  The 21-year-old has seen his production drop like many Philadelphia players this season but he still has 11 goals in 33 games.
Two For Orlov: Capitals defenseman Dmitry Orlov received a two-game suspension for his knee-on-knee hit on Jets winger Nikolaj Ehlers.  It's the second time that the 30-year-old has been suspended after being hit with one for a boarding incident back in 2014.  He missed games against Boston and Ottawa and will be able to return on Monday against Vegas.  Ehlers, on the other hand, won't be returning for a while as he was placed on LTIR on Saturday, freeing up the cap space for them to activate Blake Wheeler.  As a result, Ehlers will miss at least 10 games and 24 days.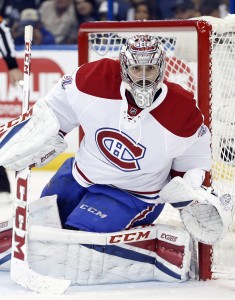 Setback For Price: Canadiens goaltender Carey Price hasn't played at all this season with his recovery from offseason knee surgery going slower than expected.  It turns out that the veteran recently had a setback and will be essentially starting from scratch in his recovery as he tries to work his way back to the ice at some point this season.  Montreal has struggled considerably this season with Jake Allen and Samuel Montembeault between the pipes and with Price having four years left on his contract, they will be balancing a fine line between having him return in a situation where they have no playoff hopes while also wanting to ensure that their star goalie won't have any question marks heading into 2022-23.
New GM: Still with Montreal, they now have their replacement for former GM Marc Bergevin as Kent Hughes was named their new general manager.  The 52-year-old has never worked in an NHL front office but has plenty of experience around the NHL having served as a player agent and had more than $290MM of contracts on his roster before deciding to go with this career change.  Like Executive VP of Hockey Operations Jeff Gorton, Hughes received a five-year contract and the duo will look to rebuild a Canadiens team that has gone from a Stanley Cup Finalist to lottery contender in roughly six months.
Protocols Changing: There should soon be a sharp decline in the number of players testing positive for COVID-19.  Following the All-Star Game, the only times that players and team staff will be tested is for cross-border travel or if they're showing symptoms.  Roughly 73% of NHL rosters have tested positive this season so that decrease was likely to happen on its own with players not being subject to testing for three months after that time but a few weeks from now, the list of players in COVID protocol should be pretty short.
Photo courtesy of USA Today Sports Images.