It was a fairly quiet week around the NHL with the biggest controversy stemming from the players that weren't on the list of players named to the All-Star Game.  There were, however, a few other stories of note over the past seven days which are covered in our top stories of the week.
Hofmann Leaves, Doesn't Return: When Blue Jackets winger Gregory Hofmann took a leave of absence from the Blue Jackets late in December, it wasn't a big deal.  His first child was about to be born and teams let their players take a few days away from the team when that happens.  However, Hofmann has decided not to return, first prompting a suspension from the team.  Then, a few days later, the team ran him through unconditional waivers, allowing them to terminate his contract.  Columbus acquired the rights to the 29-year-old from Carolina last season and brought him over to the NHL this year where he had held his own in a limited role, picking up seven points in 24 games.  Instead of coming back, he'll stay home with his family and will rejoin EV Zug of the Swiss NLA.  He'll also be eligible to play in the Olympics since Columbus released him instead of leaving him under suspension.
Another Investigation: Evander Kane has been no stranger to NHL investigations as the league had done three separate ones on him over the last few months.  That number can now be increased to four as the league will take a closer look into the incident that caused San Jose to terminate the remaining three-plus years of his contract.  Kane has already been suspended for a violation of COVID protocol this season and if the league deems that another one is warranted here, it could affect the 30-year-old's short-term chances of catching on with another team.  Edmonton is among the teams that have confirmed they have interest in signing the winger.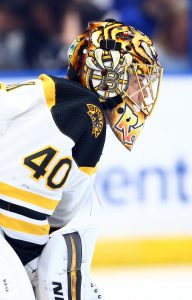 Officially Back: In a move that should have come as a surprise to no one, the Bruins officially brought back veteran goaltender Tuukka Rask, inking him to a pro-rated one-year, $1MM contract.  The deal also contains a full no-movement clause.  Rask made it clear over the offseason that he only intended to play for Boston this season if he decided to return after recovering from his hip surgery.  The 34-year-old has played in 561 career NHL games, all with the Bruins, and will partner with Linus Ullmark down the stretch while Jeremy Swayman has been sent back to Providence of the AHL.  As for Boston's cap situation, this contract was basically all they could afford which will put them in a money-in, money-out spot if they want to make any more changes before the trade deadline.
Three For Merrill: After playing for three teams over the past two seasons and having to settle for a one-year contract in free agency back in July, defenseman Jon Merrill received some security from Minnesota, inking a three-year extension that carries a $1.2MM AAV.  The 29-year-old has had a nice season on the third pairing for the Wild, averaging just shy of 18 minutes per game while chipping in with 11 points, more than double what he had last season with Detroit and Montreal.  It's the longest contract for Merrill since his entry-level deal so he gets some welcome stability while Minnesota gets a capable depth blueliner for a pretty good price tag.
Lidstrom Returns: Nicklas Lidstrom is once again a member of the Red Wings.  No, the Hall of Famer isn't coming out of retirement but he has rejoined Detroit's front office, becoming their new vice president of hockey operations.  Lidstrom, who patrolled the back end for them for 20 years, is no stranger to their front office having worked for them as a scout for three years soon after his retirement in 2012.  This time around, however, he'll be much more involved in all parts of hockey operations.  He joins Pat Verbeek, Niklas Kronwall, Jiri Fischer, Dan Cleary, Mark Howe, Kris Draper, and Kirk Maltby among former Red Wings working under Steve Yzerman in their front office.
Photo courtesy of USA Today Sports Images.