In the spirit of the holiday season, PHR will take a look at what teams are thankful for as the season passes the one-quarter mark. There also might be a few things your team would like down the road. We'll examine what's gone well in the early going and what could improve as the season rolls on for the New York Islanders.
What are the Islanders thankful for?
A stingy defense corps.
Yes, part of their success is due to Barry Trotz's system but the Islanders boast a group of blueliners that is still relatively unheralded.  Ryan Pulock and Adam Pelech are both quality rearguards locked up on long-term deals that could wind up being team-friendly by the end; Pulock's extension carries a $6.15MM AAV through 2030 that kicks in next season while Pelech checks in at $5.75MM through 2029.  That's a quality duo on the back end to build around for a long time.  Noah Dobson will also be part of that long-term future while Scott Mayfield's contract continues to be one of the better bargains in the league for at least one more year after this one.
Individually, none of these players brings a 'wow' factor to the table but as a group, it's a good enough unit to help keep them close most nights even when the offense struggles.  If they're going to claw their way back into the playoff picture, this group will be a big part of it (especially with Pulock set to return soon).
Who are the Islanders thankful for?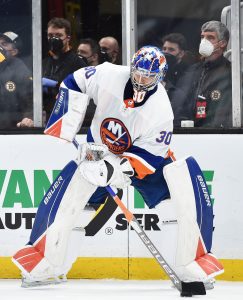 For years, Sorokin has been touted as their goalie of the future.  After finally coming to North America and playing last season, he was the backup to Semyon Varlamov.  It's time to consider the torch as passed.  This season, the 26-year-old has been one of the better goalies in the league, posting a .926 SV% which puts him in the top ten league-wide in that category.  He also has made over 70% of the starts this season.  Part of that is due to an early injury to Semyon Varlamov but Sorokin has also outplayed Varlamov considerably as well.  There was some risk to Sorokin's three-year, $12MM contract considering he had played all of 22 regular season games heading into this season but all of a sudden, he's one of the better bargains for goaltenders around the league.
What would the Islanders be even more thankful for?
Offense.  Not just depth scoring or secondary scoring, or offense from the defense.  The Islanders need production, period.  Mathew Barzal is their star center but he only has five goals this season (which still puts him in a tie for fourth on the team).  Kyle Palmieri, Josh Bailey, and Zach Parise are all capable veteran players and they're all stuck at a single goal.  Casey Cizikas and Matt Martin are big pieces of their fourth line on above-market contracts and they've failed to light the lamp in 39 combined games.  The defense as a whole has just five tallies on the season.  You get the point.
With even an average offense and some better luck on the COVID front, this is a team that could be right in the playoff mix as things stand.  If they're going to get back into postseason contention with the struggles they've had early on, they're going to need a lot of players to rediscover their scoring touch over the holiday break.
What should be on the Islanders' Holiday Wish List?
Beyond adding scoring, more defensive depth would go a long way towards helping their chances of climbing back into the race in terms of giving them some injury insurance (and we know GM Lou Lamoriello isn't throwing in the towel just yet).
But the biggest thing on their wish list both now and in the future is cap space.  They don't have it and they need it in a big way.  The Isles were forced to bridge their young stars to merely stay cap-compliant now so it's a longer-term concern.  If they want to add now, they need to free up cap room first and if they want to keep their core intact, they need to free up cap room.  Accordingly, that is going to be the biggest wish in the coming weeks, months, and years for the Isles.
Photo courtesy of USA Today Sports Images.