The Florida Panthers had a new goaltender at practice today, as recent waiver claim Jonas Johansson hit the ice. Spencer Knight, who would have normally occupied one of the nets, has been loaned to the Charlotte Checkers of the AHL.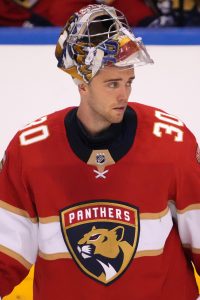 While that kind of assignment will turn some heads, there's not a lot of certainty around the Panthers right now, meaning things could change quickly. The team added five players and one staff member to the COVID protocol yesterday and there is some chatter about whether their game tonight against the Los Angeles Kings will be played. Team reporter Jameson Olive tweets that Aaron Ekblad and Frank Vatrano were "unable to skate" this morning according to interim head coach Andrew Brunette, who called it "chaotic" for the Panthers right now.
For Knight, a stint in the minor leagues is certainly not an indictment of his future with the team. The 20-year-old netminder stepped directly into the NHL last season after an outstanding sophomore year with Boston College, and showed that there's a chance he was ready for primetime right away. That hasn't been the case, as through 13 appearances this season he has posted a 6-4-2 record with a .892 save percentage. In his last game–against the Ottawa Senators on Tuesday night–he allowed eight goals on 38 shots, remaining in the net for the whole game despite his poor performance.
Almost every prospect needs seasoning in the minor leagues, especially goaltenders who often don't hit their true peak performance until their mid-twenties. While there are obviously some outliers able to step directly into the NHL and succeed, some time in the AHL for Knight shouldn't sour Panthers fans on his upside. The 13th-overall pick from 2019 is still an outstanding talent and should be back with the team at some point in time. For a club trying to contend for a Stanley Cup, that time just can't be now.
Photo courtesy of USA Today Sports Images