Dec 21: Burns has been joined by Tomas Hertl and Jonathan Dahlen, both added to the protocol today. An additional Sharks staff member has also been added.
Dec 20: When the San Jose Sharks experienced their COVID outbreak earlier in the season, one of the key names that went unaffected and helped carry them through was Brent Burns. The veteran defenseman has played in all 30 of the team's games so far this season, but that could be about to change. Burns has been added to the COVID protocol, though his placement there is apparently retroactive to December 17. That means he would be technically eligible to return for the Sharks' next game, currently scheduled for December 27, should he pass all of the medical testing.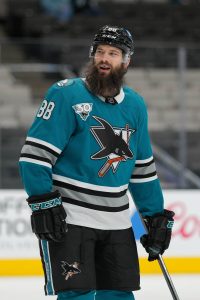 Burns, 36, has averaged nearly 26 minutes a night this season for the Sharks and is once again racking up points at a strong pace. The roving defender has 17 points in 30 games, good for 23rd in the league among defensemen. Should he have to miss any games after the holiday break, it would be a huge blow to San Jose's chances.
Given that no other players have entered in the past few days for the Sharks, the hope is that this is a contained case. If that proves incorrect and other players enter the protocol in the coming days, they wouldn't be available when the season resumes. For a team just barely hanging on in the Pacific Division playoff race, losing any more bodies could have a dire impact.
Photo courtesy of USA Today Sports Images