The return of Zach Bogosian to Tampa Bay is off to a tough start. After the Lightning lost game one of this season to the Pittsburgh Penguins, Bogosian won't get another chance to get on the ice for quite some time. The veteran defenseman is out four to six weeks with a lower-body injury, according to team reporter Bryan Burns. The team has recalled Andrej Sustr in his place.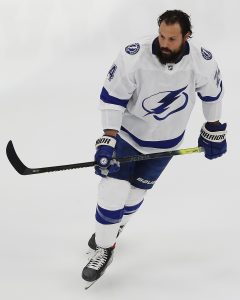 It's been a very interesting few years for Bogosian, who was a highly-paid member of the Buffalo Sabres as of February 2020. The Sabres decided to waive and then assign Bogosian to the minor leagues, which didn't sit well with the veteran defenseman, so he decided not to report and forfeited the rest of his $6MM 2019-20 salary. Turned out it was quite the successful move, as after going through a contract termination, Bogosian signed on with the Lightning just in time to help them win the Stanley Cup.
Last season, he ended up with the Toronto Maple Leafs as a Cup-winning veteran that was supposed to bring playoff toughness, but failed to help that team slay their first-round demons. Why chase rings around the league when you can just stay in Tampa? That's exactly what Bogosian did this offseason, signing a three-year deal with the Lightning with a full no-trade clause.
Now out more than a month, the Lightning will need to find an answer on their third pair that isn't Bogosian. Cal Foote, the obvious choice, is still working his way back from his own injury and was wearing a red no-contact sweater at practice. So it's Sustr for the time being, despite the 6'7″ behemoth last playing in the NHL during the 2018-19 season.
Photo courtesy of USA Today Sports Images