Navigating the salary cap is one of the more important tasks for any GM.  Teams that can avoid total cap chaos by walking the tightrope of inking players to deals that match their value (or compensate for future value without breaking the bank) remain successful.  Those that don't see struggles and front office changes.
PHR will look at every NHL team and give a thorough look at their cap situation heading into the 2021-22 season.  This will focus more on players who are regulars on the roster versus those who may find themselves shuttling between the AHL and NHL.  All cap figures are courtesy of CapFriendly.
New Jersey Devils
Current Cap Hit: $70,019,735 (under the $81.5MM Upper Limit)
Entry-Level Contracts
F Jesper Boqvist (one year, $925K)
F Jack Hughes (one year, $925K)
F Dawson Mercer (three years, $894K)
D Ty Smith (two years, $863K)
Potential Bonuses:
Hughes: $2.85MM
Mercer: $400K
Smith: $400K
Total: $3.65MM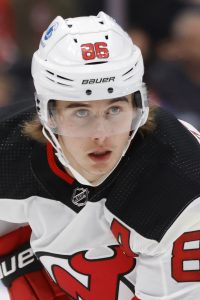 Hughes showed some improvement in his second season but isn't playing at the level that a recent first-overall selection is expected to.  Many expect him to take a step forward this year but it's fair to wonder if that will be enough to get him a long-term deal or whether he'd be better off with a bridge.  Nico Hischier's contract (more on that one later) would be the potential comparable but if Hughes thinks he can hit another level, his camp would be better off going for a short-term second contract.  On the bonus front, the 'A' portions are certainly attainable ($850K in total) while the 'B' ones seem unrealistic for him to get to.
Boqvist, who was sent down to start the season, should earn a limited role before too long.  As a result, a short-term second deal is likely.  Mercer made the team out of camp but it's too early to assess whether he'll be able to hit some bonuses while forecasting his next contract before he plays a game isn't really doable.  There are other forwards (Tyce Thompson and Alexander Holtz) that could play their way onto the roster but they're candidates to go back and forth which makes it unlikely their respective bonuses are hit.
Smith's rookie season was an impressive one as he locked down a spot inside New Jersey's top four on the back end while chipping in offensively.  Lots can change over the next two years but assuming he progresses, he's looking at a significant raise and could be a candidate for a long-term pact that buys out a few UFA years as well.  His bonuses are certainly achievable as well.
One Year Remaining, Non-Entry-Level
F Jesper Bratt ($2.75MM, RFA)
D/F Mason Geertsen ($725K, UFA)
D Christian Jaros ($800K, UFA)
D P.K. Subban ($9MM, UFA)
F Miles Wood ($2.75MM, RFA)
F Pavel Zacha ($2.25MM, RFA)
Bratt hasn't emerged as an impact scorer yet but the speedster has put up at least 30 points in each of his four NHL seasons, including the pandemic-shortened last two years.  He eventually settled on a bridge deal just days before the regular season started although he'll have arbitration eligibility and a $3.3MM qualifying offer (120% of the AAV) working in his favor this time around.  He needs to establish himself as a bigger threat if he wants to land a considerably higher price tag than that.  Wood is coming off a good season in the goal department with 17 in 55 games and has a $3.5MM qualifier coming his way.  That's on the high side for someone who hasn't scored 20 yet but they have the wiggle room to afford that raise even if he remains more of a secondary piece.  Zacha has slowly improved and quietly led the Devils in scoring last season.  He has a $3MM qualifier on the horizon and while he's basically locked in on the third line with their first-overall picks holding down the top two spots, he can still be an impact piece.  A long-term deal in the $4MM range is a realistic scenario here if he's around the 35-40-point mark again this season.
Subban is no longer the top-pairing player that he was when he signed this contract and durability has been a concern the last few years.  He's more of a role player and his next deal might not even be half of his current rate.  He'll be a candidate to be dealt between now and the trade deadline as long as New Jersey is willing to retain half of the price tag.  Jaros is a depth piece, a placeholder for some of their prospects until one of them is ready to come in.  Geertsen was a surprising waiver claim but with the role he's likely to have, it's unlikely he'll garner much more than the minimum on his next contract.
Two Years Remaining
G Jonathan Bernier ($4.125MM, UFA)
G Mackenzie Blackwood ($2.8MM, RFA)
D Ryan Graves ($3.167MM, UFA)
F Andreas Johnsson ($3.4MM, UFA)
F Janne Kuokkanen ($1.85MM, RFA)
F Michael McLeod ($975K, RFA)
D Damon Severson ($4.167MM, UFA)
D Jonas Siegenthaler ($1.125MM, RFA)
F Yegor Sharangovich ($2MM, RFA)
F Tomas Tatar ($4.5MM, UFA)
Tatar was one of the more intriguing unrestricted free agents in the 2021 class.  His production dipped a bit after two strong seasons with Montreal but what really worked against him was being a healthy scratch for most of their playoff run.  That certainly hurt his value although he still managed to land a decent price tag, albeit not at the type of term he was hoping to command.  If he can help elevate the production in the top six though, he'll have a chance to land a similar contract two years from now.  Johnsson was acquired as a cap dump from Toronto but didn't come close to matching the production he had with the Maple Leafs.  That contract will be difficult to move unless he rebounds.
Sharangovich had a nice rookie season buoyed by a good half-season in the KHL before the NHL season got underway.  As long as he stays in their top six, he should be able to produce enough to warrant a raise on his $2.05MM qualifying offer while he'll have arbitration rights at that time.  Is he a long-term piece for them?  They'll find out over the next two years.  Kuokkanen didn't look out of place in a middle-six role last season, his first taste of regular NHL action.  The price tag is a little high given his limited NHL experience but if he even stays on the third line, they'll get a good return on it.  His qualifier is at $1.95MM with arbitration rights in 2023.  McLeod, a 2016 first-rounder, has had a slower development path but is now waiver-eligible, helping him secure a spot.  He'll have time to establish himself as a legitimate full-time NHL player and will need to do so if he wants to get more than his $1MM qualifier.
Severson has been miscast in a top-pairing role over the last few years so it will be interesting to see how he fares on the second pairing which is where he's more suited to be.  His contract has been a bargain considering the role and ice time he has played but now in a more optimal spot on the depth chart, he could stand out a bit more which would certainly improve his fortunes heading into free agency in 2023 where he's already looking at a raise.  Graves joins New Jersey after Colorado decided they needed to move him out for expansion considerations and he should add a stabilizing presence on the back end.  If he holds down a spot in their top four as expected, he should be looking at a small raise at a minimum on his next deal.  Siegenthaler hasn't had an extended NHL look but should get one over the next couple of years.  If he's more of a depth player than an impact one, he shouldn't get much more than this on his next contract.
Last season was a tough one for Blackwood as he was thrust into the undisputed starting role with Corey Crawford retiring at the beginning of training camp.  A bout with COVID-19 didn't help things as he struggled upon his return.  He is viewed as their long-term starter but has some work to do to earn the big money contract that number one netminders get.  Bernier was brought in this summer in the role that Crawford was supposed to fill – serve as a mentor to Blackwood while pushing for playing time.  It's an above-market contract for that role but they have more than enough cap room to pay the extra cost to get the player that the wanted.
Three Years Remaining
No players have expiring contracts following the 2023-24 season.
Four Or More Years Remaining
D Dougie Hamilton ($9MM through 2027-28)
F Nico Hischier ($7.25MM through 2026-27)
Hischier wasted little time signing his second contract, doing so with a year remaining on his entry-level pact.  It seemed like a reasonable move on both sides – Hischier got some long-term security while New Jersey hoped they'd get a bargain as Hischier develops into a number one center.  That could still happen but the last two years haven't gone as well as anyone would have liked.  He's still just 22 and lots can change but they didn't get much value on the first year of that deal.
For years, the Devils have struggled to lure top free agents to New Jersey even with ample cap space.  That changed with the signing of Hamilton, the big prize on the open market.  He worked his way into becoming a legitimate top-pairing defender, pushing Severson and Subban down a notch while adding another dimension offensively.  It's a high price in terms of money but with a very clean cap situation, it's a move that was well worth doing.
Buyouts
G Cory Schneider ($2MM through 2023-24)
Retained Salary Transactions
D Will Butcher ($911K in 2021-22)
Salary Cap Recapture
F Ilya Kovalchuk ($250K through 2024-25)
Best Value: Zacha
Worst Value: Subban
Looking Ahead
GM Tom Fitzgerald has a very clean cap situation in front of him as he looks to navigate the Devils out of their rebuild.  They can still add pieces this season (or take on contracts if needed) without any fear of getting close enough to the cap ceiling where earned bonuses could roll over to next season.
From a longer-term perspective, with only Hischier and Hamilton signed beyond 2022-23, they have all sorts of cap room at their disposal.  Some will towards Hughes and younger players coming off their bridge deals while Severson and Graves are looking at raises as is Blackwood.  They should be able to keep that core intact while still having enough room to add impact players.  There is still work to be done but brighter days are ahead in New Jersey.
Photo courtesy of USA Today Sports Images.