Navigating the salary cap is one of the more important tasks for any GM.  Teams that can avoid total cap chaos by walking the tightrope of inking players to deals that match their value (or compensate for future value without breaking the bank) remain successful.  Those that don't see struggles and front office changes.
PHR will look at every NHL team and give a thorough look at their cap situation heading for the 2021-22 season and beyond.  This will focus more on players who are regulars on the roster versus those who may find themselves shuttling between the AHL and NHL.  All cap figures are courtesy of CapFriendly.
Montreal Canadiens
Current Cap Hit: $90,481,370 (over the $81.5MM Upper Limit)
Entry-Level Contracts
F Cole Caufield (two years, $881K)
D Alexander Romanov (one year, $894K)
F Nick Suzuki (one year, $863K)
Potential Bonuses
Caufield: $300K
Romanov: $637.5K
Suzuki: $537.5K
Total: $1.475MM
Caufield joined Montreal late last season and wound up playing in their top six pretty much the rest of the way including for most of their playoff run.  Viewed as a possible contender for the Calder Trophy, expectations are quite high for the 20-year-old who is a candidate to bypass a bridge contract and sign a long-term pact.  That's what happened with Suzuki (we'll get to his extension later) who is quite the bargain this season before his next deal kicks in.  Both players have very good chances of hitting their bonuses.
Romanov played a regular role during the regular season but hardly played during the playoffs.  This season, he has moved up and down early on and hasn't really locked down a spot in the top four.  That has him trending towards a bridge contract while he could hit one or two of the three 'A' bonuses in his deal.
One Year Remaining, Non-Entry-Level
F Adam Brooks ($725K, RFA)
D Ben Chiarot ($3.5MM, UFA)
D Brett Kulak ($1.85MM, UFA)
F Artturi Lehkonen ($2.3MM, RFA)
G Sam Montembeault ($750K, RFA)
D Sami Niku ($750K, RFA)
F Cedric Paquette ($950K, UFA)
F Mathieu Perreault ($950K, UFA)
D Chris Wideman ($750K, UFA)
Lehkonen has been an effective checker for Montreal for the past few seasons but his price tag is approaching the point where he's getting too expensive for that role.  If he winds up on the fourth line for a good chunk of the season, he becomes a non-tender candidate.  Otherwise, if he scores enough to stick around, his raise shouldn't be too substantial.  Paquette and Perreault signed as unrestricted free agents back in July and have had limited roles so far this season.  With the cap crunch that's looming, this is the price tag they'll need their fourth liners to have, if not a little lower.  If they take something like that next summer, a return is possible.  Brooks was added on waivers and will need to have close to a regular role to avoid Group VI UFA status.  At this point, he should be able to get a small raise – particularly if he becomes UFA-eligible – but should still be in the six-figure range.
Chiarot's contract with the Canadiens was a head-scratcher when he signed it in that it seemed to be well above his value but he has established himself as a top-four blueliner and his performance in the playoffs certainly helped his value.  A raise next summer certainly isn't out of the question although it's doubtful it will come in Montreal with their cap situation.  Kulak has played well at times and struggled at others, shifting him to a lower rung on the depth chart.  His spot is one they'll likely want to carry someone a little cheaper in moving forward.  Wideman and Niku were added to try to add some firepower from the back end though both have struggled in their own end in the past which has hurt their value.  If one of them becomes a regular, there's a case to be made for a raise next summer but if they're in and out of the lineup, another contract close to the minimum is likely.
Montembeault was brought in as extra depth in the preseason and is basically a short-term placeholder as the backup right now.  It's certainly not ideal from a development scenario – he turns 25 next week and has only 130 career professional appearances – and that will hurt his next contract unless he winds up being the number two option all season long.  At this point, another two-way deal near the NHL minimum is likely.
Two Years Remaining
G Jake Allen ($2.875MM, RFA)
F Paul Byron ($3.4MM, UFA)
F Jonathan Drouin ($5.5MM, UFA)
Drouin's return has been a positive one after taking a leave of absence late last season.  On the whole, his production with Montreal hasn't lived up to the price tag which would have him seemingly heading for a pay decrease unless he is able to establish himself as a consistent scoring threat over the next two seasons instead of being consistently inconsistent.  Byron has been one of the better waiver pickups in recent years but with where he is on Montreal's depth chart when fully healthy (the fourth line), it's a deal that's well above market rate.  It's a premium they could once afford but this contract will cause them some issues next summer.
Allen opted not to test the free agent market this past summer, instead inking a two-year deal shortly after being acquired and putting him on what appeared to be a pathway to Seattle until he wound up being protected.  Viewed as an above-average backup, he's making a bit less than what typical second-stringers have recently landed on the open market.  They'll get good value from this deal.
Three Years Remaining
D Joel Edmundson ($3.5MM, UFA)
F Mike Hoffman ($4.5MM, UFA)
F Tyler Toffoli ($4.25MM, UFA)
Hoffman didn't have much luck in free agency a year ago, having to eventually settle for a one-year deal.  However, he fared much better this time around, signing this contract within a few hours of the market opening up.  A consistent scorer, Hoffman should fill some holes offensively for the Canadiens but his limitations otherwise make him a bit of a curious fit.  Toffoli, who is more of a two-way player, is a better fit for Montreal and is coming off a surprisingly strong first season with the Canadiens that saw him finish seventh in the league in goals scored.  That was a nice return for someone making the money of someone on the second line.
Edmundson's first season with Montreal was a good one, as he earned a spot in their top four while logging over 20 minutes a game during the regular season and more than 23 minutes per night in the playoffs.  He doesn't produce much offensively but players like him have been in the $3.5MM to $4MM range over the last couple of offseasons.
Four Or More Years Remaining
F Josh Anderson ($5.75MM through 2026-27)
F Jake Evans ($750K in 2021-22, $1.7MM through 2024-25)
F Brendan Gallagher ($6.75MM through 2026-27)
D Jeff Petry ($6.25MM through 2024-25)
G Carey Price ($10.5MM through 2025-26)
D David Savard ($3.5MM through 2024-25)
F Nick Suzuki ($7.875MM from 2022-23 through 2029-30)
D Shea Weber ($7.857MM through 2025-26)
Gallagher has been a consistently productive sparkplug throughout his tenure with Montreal and had been on one of the bigger bargain deals in the league on his last contract ($3.75MM).  That was changed with this new pact, one that carries some risk with Gallagher's wrist issues in the past and his style of play which isn't one that lends itself towards aging well.  Anderson's contract was a big shocker when he signed it as he was coming off his one-goal season but he did relatively well in his first season although his point total was still somewhat underwhelming.  Power forwards get paid and that held true here although it's unlikely he'll produce enough to provide positive value on the contract.
As for the forward deals that start next season, Suzuki is now firmly entrenched as Montreal's top center, allowing him to skip the bridge deal and earn a fairly hefty salary for someone whose career high in points is 41.  There is certainly some extrapolation in this deal; it's likely he'll be a bit overpaid at the beginning with the hopes that they'll get some surplus value in the back half of it.  Evans is only in his second season of being a regular NHL player and he has been asked to step onto the third line.  If he can handle that role and up his production, this deal could be a below-market one but if he struggles, he'll be a bit on the highly-paid side for a fourth liner.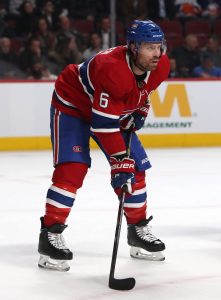 There are plenty of question marks surrounding Weber.  He's not expected to play this season which has allowed Montreal to put him on LTIR; they'll use that to stay in cap compliance when Price and Byron return from their LTIR stints.  Can he play again?  Comments from the team over the summer seemed to suggest it was unlikely although nothing has been definitive yet and the Canadiens haven't shifted their captaincy over to a healthy player yet.  If he can't come back, he'll remain LTIR-eligible.  Worth noting, the last three years of the deal are for $1MM in salary which makes him a candidate to be flipped to a team that's well under the cap floor.  That coincides with when Montreal's liability for salary cap recapture would lapse as their total accumulated cap hit would exceed salary paid.  (Nashville's remains intact for the remainder of the contract.)
Petry has played behind Weber throughout his time in Montreal but now is their undisputed top defender at the price tag of a second option.  If he's able to take on the extra workload while hovering around the 40-point mark again, this deal should hold up well.  Savard was brought in effectively as Weber's replacement, at least when it comes to the defensive side of things.  He struggled last season and while the AAV is reasonable for a top-four player, it could become an issue if he isn't able to play in the top four by the end of it.
Price is the highest-paid goalie in league history and with the way the goaltending market has shifted the past few years towards more of a tandem style, it's reasonable to think no one else is getting to his AAV anytime soon.  For that price tag, the Habs haven't got much from Price over the past couple of regular seasons which have been somewhat pedestrian.  His playoff numbers have been much better but if their plan is only to play him 45-50 games when he's healthy, his contract is quite an overpayment for that role.
Buyouts
D Karl Alzner ($1.958MM in 2021-22, $833K in 2022-23 and 2023-24)
Retained Salary Transactions
None
Best Value: Toffoli
Worst Value: Price
Looking Ahead
For this season, the Canadiens should still be cap-compliant when Price and Byron come off LTIR although they won't have much wiggle room at that time which will limit what they're able to do as the season progresses.
That wiggle room is basically completely gone for 2022-23.  With Suzuki's deal kicking in, they have $84.1MM in commitments to 13 players.  Even if you subtract Weber off the books completely (which isn't exactly accurate based on how LTIR is actually calculated), that basically leaves them with enough room to try to round out the roster with minimum salary players.  Romanov won't be signing for that and if they want to keep Chiarot, they're going to have to get rid of a core player to be able to afford him.  GM Marc Bergevin has committed to this core for the foreseeable future and it's difficult to see them being able to afford to add much to it anytime soon.  If anything, the cuts will be coming starting next season.
Photo courtesy of USA Today Sports Images.