After being a healthy scratch the first few games of the season, Dylan Strome got back into the Chicago Blackhawks lineup last night. Head coach Jeremy Colliton said after the game that Strome worked hard, but the young forward still found himself skating lower and lower in the lineup throughout the game. He ended up playing 13:12, ninth among Chicago forwards in another loss. The Blackhawks have not held a lead through any of their first five games and have been outscored 21-9 so far.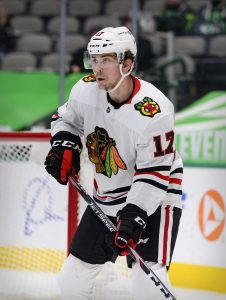 It's easy to see why Strome is the subject of much speculation these days, given his current role on the team and cap hit. The Blackhawks are using $3MM of their precious cap space on a player who has been a healthy scratch for the first several games, not exactly the best use of assets. So a trade seems the most likely outcome, and Elliotte Friedman of Sportsnet included his opinion on the latest 32 Thoughts:
I think there is a certain price that they're looking for. This is a little bit of guessing on my part just based on the conversations I've had. I think they're looking for as high a draft pick as they can get. I'm not talking about a first-rounder, but probably as close to that as they can get. I just don't think at this point in time anybody's there. 
Strome, 24, would be heading to his third team if he is traded, after originally starting his career with the Arizona Coyotes. Selected third overall in 2015 after Connor McDavid and Jack Eichel (just ahead of Mitch Marner), he has been one of the most inconsistent talents in the league over the last few years. A 20-goal, 57-point player in 2018-19, Strome looked like he would be a core piece in Chicago for a long time. But a 38-point effort followed that, and last season brought just nine goals and 17 points as he basically played himself out of the Blackhawks plans entirely.
Still, with his relative youth and obvious upside, it certainly wouldn't be surprising to see someone take another shot on Strome. One thing that could make them hesitate though is the fact that his contract is structured in such a way that he will be owed a $3.6MM qualifying offer next offseason, a price some may not want to pay. He's also eligible for salary arbitration, and does have some interesting point totals that he could present in the hearing. Those factors could make many teams essentially see him as a pending unrestricted free agent, should they not want to qualify him at that level. The trade price in that case wouldn't be as high, and could even turn some rebuilding clubs off altogether.