Just a few years ago, Sami Vatanen was one of the NHL's most consistent two-way defensemen, logging up to 22 minutes a night and recording strong offensive numbers. Now, the 30-year-old veteran failed to sign a contract in the offseason and instead is taking his talents overseas. Vatanen has signed with Geneve-Servette in Switzerland for 2021-22.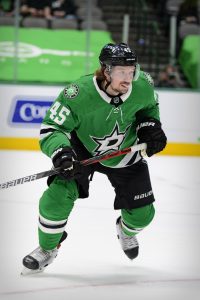 Only a few months into his thirties, this is a shocking development for the former Anaheim Ducks defenseman. In his first four seasons, Vatanen produced 120 points in 257 games and averaged nearly 21 minutes a night for the Ducks, forming part of a formidable young group alongside the likes of Hampus Lindholm and Cam Fowler. Those young defensemen were so good that Anaheim considered then-prospect Shea Theodore expendable, sending him to the Vegas Golden Knights in order for them to assume Clayton Stoner's contract in the expansion draft.
A few years later and not only is Vatanen no longer in Anaheim, but he's also not even in the NHL. In 2020-21 he played 39 games, split between the New Jersey Devils and Dallas Stars, switching teams in April after being claimed off waivers. He had just six points in those 39 games and averaged 17 minutes. night, easily his lowest total since an eight-game stint in 2012-13.
It seems unlikely that there was no interest at all in the veteran defenseman, but perhaps Vatanen just couldn't find a landing spot that was offering a substantial role in the NHL. He'll be able to try to get his game back on track overseas and should be considered a potential free agent signing again next year.
Photo courtesy of USA Today Sports Images