The Calgary Flames have inked another defenseman today, this time reaching a two-year deal with Juuso Valimaki. The contract will carry an average annual value of $1.55MM.
Valimaki, 22, has had a turbulent start to his NHL career, including missing the entire 2019-20 season with a torn ACL. He returned this year and played in 49 games for the Flames but failed to really take the big step forward that some were hoping for. He looked outstanding while playing in Finland for the start of the 2020-21 campaign, scoring 19 points in 19 games, but that kind of offense has still failed to materialize in the NHL.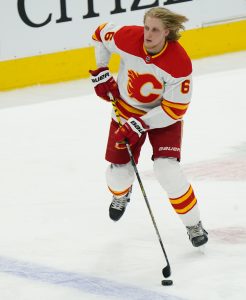 Still, even considering the lost development year, the young defenseman is still a valuable piece for Calgary moving forward. He will be a regular in the lineup again this season and with Mark Giordano now there are a lot of minutes on the left side up for grabs. The Flames did add Nikita Zadorov in the offseason, but that's really it in terms of players competing with Valimaki for ice time.
There's a real opportunity to step into the top-four, but that would be quite the leap for a player that has averaged just over 15 minutes a night through his first 73 NHL games. Valimaki was used sparingly on the penalty kill this season as Giordano and Chris Tanev ate up most of the short-handed minutes, but that is somewhere he could really help in 2021-22. The powerplay duties that Giordano held seem likely to go to Noah Hanifin, though that potentially is another spot that Valimaki could compete. He was a big goal-scoring threat in junior when he played with the Tri-City Americans of the WHL, but has just three in his time with the Flames.
Overall, this is a very interesting player to watch in Calgary this season as a big step in his development could mean a big step for the Flames in general. Locking him in at a reasonable amount for two seasons could prove brilliant if he runs away with a top-four job. The young defenseman will be arbitration-eligible when the contract expires, but still a restricted free agent under the Flames control.
Photo courtesy of USA Today Sports Images