The New York Islanders have announced a huge contract extension for one of their most important players. Adam Pelech has agreed to terms on an eight-year contract that will keep him manning the Islanders blueline through 2028-29. Pelech was a restricted free agent and was scheduled for the first arbitration hearing on August 11. Elliotte Friedman of Sportsnet reports the deal will carry an average annual value of $5.75MM, while CapFriendly adds that the deal includes no signing bonuses and will pay $5.75MM in salary each year.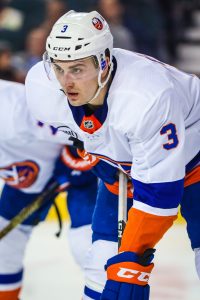 It's hard to overstate just how outstanding Pelech has become at the defensive end of the rink, as the lynchpin of the Islanders' structure. The 26-year-old averaged more than 21 minutes a night this season and received Norris Trophy votes despite recording just 14 points. Absolutely punished in terms of deployment, almost always starting in his own end, Pelech and partner Ryan Pulock are perhaps the biggest reasons for the Islanders' recent success.
The fact that the Islanders were able to lock him up at this point is a win, especially while keeping the cap hit to a reasonable number. Pelech was just a year away from unrestricted free agency, as he'll turn 27 later this month, meaning this is buying out basically the entire set of moneymaking years for the defenseman. After 303 regular season games, he's committed to being an Islander for most of his career.
Still, it does come with some risk for New York. The team is betting that Pelech's defensive game will not decline as he enters his thirties, as there isn't much offensive upside to lean on. Pelech has just 75 points in his career and is a pure shutdown option. Given that he's now signed through his age-35 season, there is a good chance that he's not providing the kind of value a $5.75MM cap hit demands by the end of the deal.
But the Islanders are going for it with this group, and there's no one doubting Pelech's ability in 2021-22. The team now has their entire defensive group signed, with only Anthony Beauvillier and Ilya Sorokin still to go. There are also a few unrestricted free agents that are expected to be in agreement with the team, meaning the $11.9MM of cap space that CapFriendly shows is a bit misleading at the moment. The team will also at some point need to work out an extension with Pulock, but given that Johnny Boychuk and Leo Komarov both come off the cap after this season, there shouldn't be much of an issue fitting him in.
Photo courtesy of USA Today Sports Images