The Toronto Maple Leafs gave pending free agent Zach Hyman permission to speak with other teams around the league, and today he is in Edmonton meeting with the Oilers, according to Jason Gregor of TSN. The Oilers have had rumored interest in the Maple Leafs forward for a while, and Chris Johnston of Sportsnet tweets that there is still a possibility of a sign-and-trade agreement between the two teams, which would open up the possibility of an eight-year contract for Hyman. Only the Seattle Kraken, who had a 48-hour window which is now closed, and the Maple Leafs were eligible to offer Hyman an eight-year deal this summer.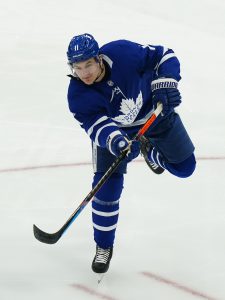 Now 29, Hyman has been a heart-and-soul player for the Maple Leafs the past six seasons. He reached a career-high of 21 goals and 41 points in the 2018-19 season, but easily would have eclipsed those totals in either of the past two years had the schedule had not been shortened or had he not suffered injuries. In 2019-20 he scored 21 goals and 37 points in 51 games, while this year he tallied 15 goals and 33 points in 43 games. He has received Selke Trophy votes in three of his five full seasons, including one fourth-place vote this year. A contributor at both ends, Hyman has experience on the powerplay and is one of the top penalty-killers in the NHL.
Still, there is plenty of risk to the pending free agent. Not only would a lengthy contract take him well into his thirties, but Hyman has dealt with knee injuries over the last few years, even undergoing major surgery in 2019. There is no one who doubts Hyman's effort—the fifth-round pick has worked extremely hard for every opportunity he's been given at the NHL level—but it's hard to see how he'll continue to produce at a high level several years from now. His playstyle relies heavily on his speed and forechecking ability, as well as his willingness to absorb contact to win back or protect a puck. If any of those attributes decline, his effectiveness could be drastically reduced.
Even with that apparent risk, there seems to be a clear market for Hyman's services. The Oilers are not the only team that has been linked to the free agent forward; the St. Louis Blues, Vancouver Canucks, Calgary Flames, and Seattle Kraken have been attributed interest at least, though it's not clear how many of these or other clubs Hyman has actually met with. Any deal will have to wait until tomorrow when the NHL transaction freeze opens up, and even then it would only occur if a trade with the Maple Leafs was worked out. Otherwise, Hyman will have to wait until July 28 like the rest of this year's free agent crop.
Photo courtesy of USA Today Sports Images