Florida Panthers defenseman Anton Stralman has waived his no-trade clause and will be heading to the Arizona Coyotes, according to Pierre LeBrun of The Athletic. Stralman has just one year remaining on his current contract, which carries a $5.5MM cap hit. Elliotte Friedman of Sportsnet reports that the Coyotes will also receive prospect Vladislav Kolyachonok, and a 2024 second-round pick. The Panthers will receive a 2023 seventh-round pick in return.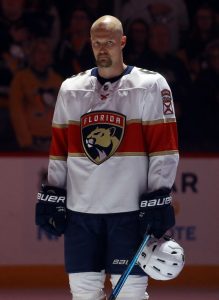 The Coyotes have made move after move this summer to weaponize their cap space, using it to acquire future assets in preparation for a rebuild. Many of their key players remain in the fold, but the team has taken on bad contracts like Andrew Ladd, Loui Eriksson, Jay Beagle, and Antoine Roussel. They even received two draft picks to bring in Shayne Gostisbehere, who will likely be asked to play big minutes given how many vacancies there are on the back end. Oliver Ekman-Larsson was shipped out of town, Niklas Hjalmarsson retired while Jason Demers, Alex Goligoski, Jordan Oesterle, Aaron Ness and Jordan Gross are all pending unrestricted free agents.
That means Stralman would be joining a group that includes only Gostisbehere, Jakob Chychrun, and Ilya Lyubushkin on the back end. That's not a group that should be very imposing, at least not anymore. The 34-year-old Stralman (who turns 35 in just a few days) was once the perfect defensive complement to high-end offensive players, but has declined rapidly in recent years. His minutes were slashed this season in Florida, where he recorded just nine points in 38 games.
Arizona meanwhile now holds five second-round picks for the 2022 draft and have now added another one for down the road, which should help them restock a bereft prospect pipeline. The team had traded away top prospects to acquire players like Taylor Hall and Phil Kessel, while also being stripped of draft picks thanks to scouting violations. GM Bill Armstrong has obviously decided that building that part of the organization back up was a priority this offseason, but it could very well come at the cost of a competitive season.
The Coyotes have just five players signed to one-way contracts for the 2022-23 season (six, if you include Ladd, who has played just five NHL games over the past two years), and have been rumored to be listening even on some of those. Unless the team is extremely aggressive in free agency, this appears like it will be quite a lean year for the roster, relying on aging veterans or fringe NHL players to fill several key spots.
For Florida, getting rid of Stralman's cap hit is a huge boost, given their recent acquisition of Sam Reinhart. The team signed RFA Sam Bennett earlier this morning and didn't have a lot of room left to get the 25-year-old Reinhart done. Now, with an extra $5.5MM in room, the team can not only get Reinhart under contract but could potentially look for further upgrades through free agency. Giving away a prospect and a pick is never easy, but the Panthers are in a win-now mode with their deep, relatively young roster that looks poised to do some damage in the Atlantic Division.
Photo courtesy of USA Today Sports Images