Wednesday: The AAV will be $5.25MM, per Seravalli, who adds the deal will carry a partial no-trade clause each season with a varying number of teams.
Monday: The Vegas Golden Knights aren't going to let Alec Martinez go that easily. Frank Seravalli of Daily Faceoff reports that the two sides are closing in on a deal to keep the veteran defenseman in Vegas. The contract is expected to be for three years and will carry a cap hit of around $5MM, according to Seravalli.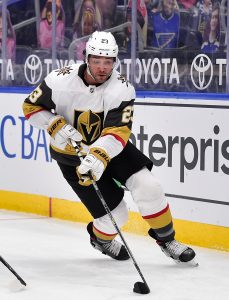 Vegas has two star defensemen in Alex Pietrangelo and Shea Theodore, but if you ask many of the people who are around the Golden Knights on a daily basis, it's Martinez who was the most reliable defender on the team. Turning 34 today, the veteran will receive a slight raise on the $4MM cap hit he has carried over the past six seasons, but it keeps him off the market and away from any rival clubs.
After a few down seasons in Los Angeles, Martinez showed exactly what he can do with a strong team around him, racking up 32 points in 53 games. He averaged more than 22 minutes a night for the Golden Knights, more than doubling the next player with 168 blocked shots. His style of defense isn't overly physical, but it is effective and obviously valuable to the Vegas front office and coaching staff.
Still, a deal of this magnitude brings up several other questions. The Golden Knights are dealing with a tight cap squeeze, and a $5MM hit for Martinez would basically take them right to the ceiling. That means other moves are coming to shed additional payroll, with the goaltending duo or forwards like Reilly Smith the most obvious options for change. There's also the risk that Martinez's age represents, as this contract will take him through his age-36 season. while he hasn't shown any signs of slowing down yet, there could at any time be a precipitous drop in production.
Part of the value that Martinez brings isn't his on-ice production though, but the experience he adds to the bench. This is a player that already has two Stanley Cup championships and more than 100 postseason games under his belt. Not many teams can ice a defensive pair that each have Cup-clinching goals, but in Martinez and Pietrangelo, that's exactly what Vegas has secured.
Photo courtesy of USA Today Sports Images