When the Vancouver Canucks signed Loui Eriksson to a six-year, $36MM contract on July 1, 2016, it was almost immediately met with concern from many who believed it would not go well. After all, Eriksson was going to turn 31 just a few weeks after inking the deal and was coming off a year which saw him shoot 16.3% to rack up 30 goals. Still, there was some hope that he would be able to age gracefully and be a solid contributor throughout the deal, even if he wasn't a first-line option. After one season in Vancouver, it was obvious that wasn't going to happen.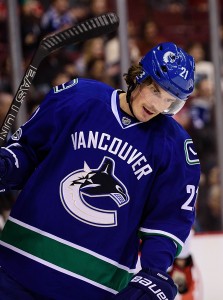 Eriksson wasn't the only bad contract handed out on that day. Milan Lucic, Andrew Ladd, David Backes, Kyle Okposo, and others were also given long-term deals that haven't panned out, but the Canucks winger has been the poster boy for that disastrous free agent class. Through five seasons in Vancouver he has scored 38 goals and 90 points in 252 games, has cleared waivers twice, and spent almost the entire 2020-21 campaign on the taxi squad. Canucks fans have been clamoring for an Eriksson buyout for years now, but as we examined just two days after it was originally signed, the structure of the contract made it relatively buyout-proof.
At today's end-of-season media availability, Vancouver GM Jim Benning indicated to reporters including Thomas Drance of The Athletic that the team will explore buyouts this offseason. While the mind may immediately jump to Eriksson when Benning mentions the buyout process, the now 35-year-old forward actually doesn't seem the most likely candidate.
That structure that made Eriksson's deal so difficult to buy out in previous years is still there, and the Canucks would still be on the hook for a $4MM cap hit next season if they bought him out this summer. They would also face a $1MM cap hit in 2022-23. By moving Eriksson to the minor leagues, they can already bury $1.125MM of his cap hit next season (the amount will increase because the league minimum salary is moving to $750K), more than half of the buyout savings but without the 2022-23 penalty.
So if not Eriksson, who else could face the buyout machine?
Jake Virtanen, who finished the season with just five goals and zero assists in 38 games this season is an option. Because he is still just 24, the Canucks would be on the hook for only one-third of the remaining salary on his contract. It would mean carrying a $50K cap hit in 2021-22 and $500K in 2022-23. Virtanen has shown flashes of top-line potential since being selected sixth overall in 2014, but they have come far too infrequently. Antoine Roussel is another candidate, but like in the Eriksson situation, thanks to a front-loaded contract a buyout wouldn't actually save much more than simply waiving him and stashing him in the minor leagues. The Canucks would be on the hook for a cap hit of $1.73MM (compared to a $1.875MM if stashed in the minors) in 2021-22 and $633K in 2022-23 with a Roussel buyout.
Even though the Canucks are in salary cap trouble, there aren't actually a ton of obvious candidates for buyouts this summer. Instead, they may have to try and trade some of the bad money out if they want to clear real room for players like Elias Pettersson and Quinn Hughes, who both are restricted free agents in need of new contracts.
Photo courtesy of USA Today Sports Images