In 2016, when Johnny Gaudreau was approaching the end of his entry-level contract, he was asked about playing for the Calgary Flames long-term. His answer then included the idea that he could play his "whole career" in Calgary, given the support of the organization and the fan base. Gaudreau would sign a six-year, $40.5MM contract a few months later, buying up many of his prime years in the league. That refrain of staying in Calgary his entire career was echoed throughout the first several seasons of the deal and now, as he approaches the last year of the contract, he was asked again.
If [Brad Treliving] and the owners are happy with the way I've played here the past six, seven years. It's something we can figure out this upcoming summer, I'd love to do that. I love the city of Calgary. I love playing here. I don't think I've ever once said I haven't wanted to be here, the guys in the locker room are great in there. I've always enjoyed my time here.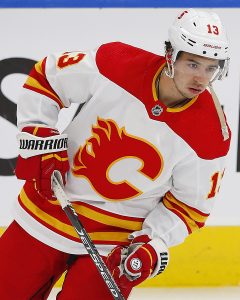 Gaudreau will be eligible to sign an extension this summer when his contract officially has just one year remaining, and Flames GM Brad Treliving confirmed to reporters including Hailey Salvian of The Athletic that the forward has expressed his desire to stay in Calgary. Still, there will be speculation (as there is almost every offseason) that the Flames are in need of a refresh and moving out some of their core pieces would be the start.
The 27-year-old Gaudreau recorded 49 points in 56 games this season including 19 goals, a nice bounce-back from the 18-goal campaign he put up a year ago. He still hasn't been able to come close to that 36-goal, 99-point season in 2018-19 that led him to finish fourth in Hart Trophy voting, but there's no doubt he's still one of Calgary's most important forwards.
The question that has always surrounded the diminutive Gaudreau, is whether he can perform in the playoffs when the game usually gets more physical. While he does have 19 points in 30 career postseason games, most of that production has come on the powerplay. In fact, he has scored just three even-strength goals in those playoff games, often a contributing factor to the Flames' early exits.
There is of course the cost to worry about as well. The Flames spent big money in the 2020 offseason when they brought in Jacob Markstrom and Chris Tanev, with the former struggling to perform under the new deal. Markstrom did suffer a concussion this season according to Treliving, but recorded just a .904 save percentage in 43 appearances and led the league in losses. The Flames now have close to $42MM already committed to just eight players in the 2022-23 season when any new deal for Gaudreau would kick in, meaning they'll have to carefully navigate any extension talks in the coming months.
Photo courtesy of USA Today Sports Images