The Pittsburgh Penguins will have Evgeni Malkin back in the lineup tonight for the first time since March 16. The big center will be activated from injured reserve and make his return to the Penguins roster against the Philadelphia Flyers tonight with just enough time to get his legs back under him before the playoffs. The Penguins have four games remaining and currently sit two points ahead of the Washington Capitals for first place in the East Division.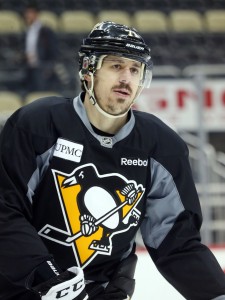 Malkin, 34, has had a season to forget, struggling at times even when healthy. Still, the future Hall of Fame forward has eight goals and 24 points in 29 games and changes the Penguins lineup considerably. If he can find the level that made him a Hart Trophy candidate last season—when he scored 25 goals and 74 points in 55 games—Pittsburgh will be even tougher to take down.
Of course, with good news usually comes bad and the Penguins had some of that today too. Head coach Mike Sullivan told reporters including Rob Rossi of The Athletic that Mike Matheson is out on a week-to-week basis after taking a puck to the face on Saturday. After struggling earlier in the season the 27-year-old Matheson had really found his game lately, logging important minutes for the Penguins on the back end. Evan Rodrigues is listed as day-to-day and Brandon Tanev, though skating, will not play on Monday.
Photo courtesy of USA Today Sports Images