With just 24 hours remaining before the 2021 NHL trade deadline, things are heating up around the league. Several big moves have already been made, with David Savard, Kyle Palmieri, and Brandon Montour all traded to contenders. There's more coming before 3pm EST tomorrow, with Taylor Hall still drawing plenty of attention among many others.
With the deadline approaching, we thought we'd unearth one of our former features: The PHR Panel. This time it'll come with a bit of a twist, as instead of answering questions, we're going to be having some fun. Each of us will give one prediction for a deadline move, and we encouraged each other to go a bit outside the box if necessary. These deals are completely speculative and just done for fun–but make sure you tell us why we're out of our minds in the comments!
Q: Predict one trade that will happen before the deadline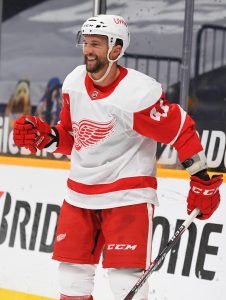 Brian La Rose: Luke Glendening to EDM
The Edmonton Oilers are known to be looking for a right-shot center that can help kill penalties and win faceoffs. Detroit happens to have one available in Luke Glendening, a player that GM Ken Holland is quite familiar with; he gave the forward the four-year, $7.2MM contract that is set to expire this summer, a clear sign that he was a fan of what the 31-year-old can provide.
Edmonton has been very quietly creating salary cap flexibility with the recent placements of Kyle Turris, Tyler Ennis, and Joakim Nygard on waivers, giving them the ability to send any of them to the taxi squad to free up cap space. If the Red Wings are willing to retain up to 50% on Glendening's contract, they could acquire him and have Turris go to the taxi squad in a move that would actually free up a bit more room for Edmonton to work with. With the Oilers missing their second and third-round picks this year already, they're more likely to part with a 2022 selection to do a deal like this.
Is Glendening going to be a secondary scorer which is something that Edmonton also needs? No, but if he can just provide the two elements that he has with Detroit, he will check off a pair of important boxes for the Oilers. Holland showed faith in giving Glendening what was an above-market extension at the time and he'll show more faith in him by bringing him to Edmonton.
Holger Stolzenberg: Conor Garland to VGK
With Vegas relatively tight up against the salary cap, the Golden Knights now more than ever will be looking for a cheap forward. They are set in net and seem pretty strong defensively. Where they are lacking is on offense—especially in scoring. The team is hopeful for another Stanley Cup run like they had in their inaugural season and while they are 11th in goals/game, they have struggled more recently to score and could really use one more top-six forward. Enter Garland, who would be quite an upgrade and a player the team could hold onto since he's expected to hit restricted free agency next season. He would be an excellent fit in Vegas after a breakout season in 2018-19 and an even better year last season. His numbers look to be close to on par this year once again. At $775K, he's the perfect fit.
Normally, the Coyotes would want to hang onto Garland, but the team is known to be struggling financially, has expressed interest in cutting salary, and might be open to moving Garland for the right price. Things are a little more complicated for Arizona as they are still battling for fourth place in the Central Division, which could stop general manager Bill Armstrong from selling. However, could Vegas move its first-rounder (something they ordinarily don't do) and a top prospect (Lucas Elvenes might make sense here, although there are other solid prospects the team could offer) to pry him away? Stranger things have happened.
Zach Leach: Sam Bennett to COL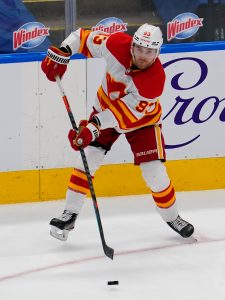 What happened to all of the Sam Bennett rumors? Earlier this season, a Bennett trade seemed imminent on multiple occasions and it was a foregone conclusion that he would be traded before the deadline at the latest. Yet, for over a month now there has been nothing but silence out of Calgary on Bennett's status and there are just hours left until the deadline passes. Are the Flames just too good to be trading roster players? Nope. In fact, the team's 2-8-0 record in their past ten games is the worst mark in the NHL. Calgary has fallen to fifth place in the North Division and are well outside of a playoff spot. They're sellers. So has Bennett just played so well that he can't be traded? No, it's not that either. Bennett recorded just three points in the month of March and has one goal in his past 19 games. By all accounts, the situation surrounding the Flames and Bennett has not changed, but the hype surrounding a potential deal has cooled nonetheless.
Flames GM Brad Treliving has repeatedly said that he did not want to rush into a Bennett trade. However, that was months ago and nothing has changed. The 24-year-old forward has shown flashes of upside, but it simply hasn't been a good fit in Calgary. Even with the coaching change to Darryl Sutter, whose style should favor a player like Bennett, there has been little improvement from the 2014 fourth overall pick. Both sides just need to move on. If Bennett remains in Calgary beyond the deadline, he will very likely be exposed in the Expansion Draft and could be lost for nothing to the Seattle Kraken. Even if that doesn't happen, the Flames may seriously consider not offering the restricted free agent a qualifying offer at his $2.55MM mark. In either scenario, Calgary comes away with nothing. In a trade, they come away with something, even if Bennett's trade value is at its lowest point. Unless Treliving and company still quietly believe in the long-term potential of Bennett and plan to protect him in expansion and then re-sign him, they need to make this move.
Colorado may not immediately come to mind as a suitor for forward help. Their public pursuit of a backup goalie and rumors that they are eyeing a defenseman as well would seemingly make forward their third-highest priority. However, the Avalanche are one of the very best teams in the NHL this season and a top contender for the Stanley Cup. They also have ample salary cap room, unlike many of the other buyers scouring the market. GM Joe Sakic is going to do his best to check off every single box that he can because that is what you do when you have a real chance at a championship. Bennett makes a lot of sense for what the Avalanche need. As good as their forward corps has been this year, with a dominant top line and good secondary scoring, there is a major drop-off after their top eight forwards. J.T. Compher has had a down year, Tyson Jost has again failed to take a step forward, and Matt Calvert has been all but written out of the lineup. The team needs a boost in the bottom six and Bennett fits the bill, especially since he could be a solution beyond just 2020-21 as well.
While his career offensive profile is similar to Jost's, Bennett has a slightly better goal-scoring touch and, importantly, has an excellent track record in the playoffs. Yet, offense may not even be Bennett's most important contribution to Colorado. The Avalanche desperately need to add physicality to their lineup. The team ranks dead last in the NHL with just 15.06 hits per 60 minutes and the biggest threat to their postseason success is the potential of getting pushed around by a bigger, tougher opponent. Enter Bennett. For a player who couldn't do even one pull-up at the NHL Combine, Bennett has developed into a heavy, aggressive player. His physicality has been the one element of his game that has never wavered and the Avalanche could desperately use a player who can improve their checking game and make them more difficult to play against.
As for the return, the Flames are more likely to land a prospect than a pick if dealing with the Avalanche. Colorado is already missing their 2021 and 2022 second-round picks, as well their 2021 fourth- and sixth-rounders. Bennett is certainly not worthy of a first-round pick, but even asking the Avs for a third-round pick in either of the next two years could be a tall task. Fortunately, Colorado has a solid pipeline, especially down the middle, and Calgary has a long-term need at center. While Alex Newhook and Shane Bowers are not on the table in a Bennett deal, their presence in the system could make a nice piece like Jean-Luc Foudy expendable. The 2020 third-round pick plays with speed and vision and has the makings of an NHL play-maker down the road. He would be a nice project for the Flames with the upside to be the top-nine center that Calgary had hoped Bennett would be. It seems like a fair swap all things considered.
Gavin Lee: Jamie Oleksiak to TOR
I know what you're thinking, Maple Leafs fans. Oleksiak? That's it? Don't be so dismissive of the 6'7″ defenseman just because he's played in Dallas for most of his career. Toronto may have publicly stated that they need forwards, but adding some defensive depth should also be in the plan for GM Kyle Dubas. After trading Mikko Lehtonen earlier in the season, the team doesn't have a ton of reliable options to plug in should any of their starters go down.
Martin Marincin currently looks like the team's seventh defenseman, with Rasmus Sandin and Timothy Liljegren behind him. That's one player who has never been able to secure an NHL job and two young prospects without much experience. Oleksiak would be a perfect complement to the group, able to move into the lineup in case of injury or even perhaps unseat Travis Dermott on the third pairing.
The fact that he's from Toronto—his younger sister Penny is an Olympic swimmer from the city—and a pending free agent makes him a realistic fit, given the team's insistence that rentals are the target this season. Toronto has a little bit of added cap flexibility after acquiring the LTIR-bound Riley Nash, and if Dallas (or a go-between) retained some of Oleskiak's $2.14MM cap hit he wouldn't cost much more than the league minimum.
This is a unique opportunity for the Maple Leafs to go deep in the playoffs without facing Tampa Bay or Boston. Adding depth is a crucial part of those long runs, and Oleksiak shouldn't come at a prohibitive cost.