Since before the start of the season when they acquired the rights to injured players Marian Gaborik and Anders Nilsson from Ottawa, the Lightning have been tap-dancing around their LTIR cap ceiling in order to stay cap-compliant.  That took another turn earlier this week when it was quietly revealed that center Steven Stamkos was transferred to LTIR retroactive to April 9th due to a lower-body injury.
With that placement, some have wondered if that could pave the way for winger Nikita Kucherov to return earlier than expected from his hip injury.  The veteran has been skating for several weeks now – albeit in a non-contact capacity – and while he was ruled out for the entire regular season before the year even started, he is expected to be ready for the playoffs.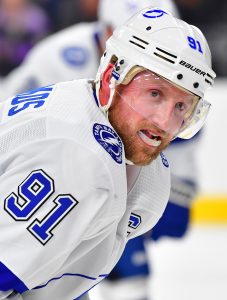 However, as Bryan Burns of the Lightning's team site notes, that's not likely to be the case.  The team currently lacks the salary cap room to activate Kucherov even with Stamkos on LTIR although that could be alleviated with forwards Alex Barre-Boulet and Ross Colton being sent down.  They also expect defenseman Jan Rutta to return and will need to free up room for that move to be made and will need to send those waiver-exempt players down to accommodate it.
Plus, as head coach Jon Cooper notes, they aren't yet ruling Stamkos out from returning this season and the injury is unrelated to the core muscle trouble that kept him out of the bubble last summer aside from three shifts (of which he scored on one of them).  He's already out until at least May 3rd due to LTIR requirements that say a player must miss 10 games and 24 days which means there will only be four games left in the season by the time he's able to come back so at best, he'll have limited game action before the playoffs.
The fact that they didn't make the retroactive placement for Stamkos before the trade deadline is telling that they expect him back; Burns notes on Twitter that their hope is that he'll be able to be back on the ice within the next week and a half.  Had they believed he was out for the rest of the regular season, they could have taken on David Savard's contract without needing the extra salary cap retention that Detroit provided.  While it appeared that an avenue had been created for Kucherov to return, that's not likely to be the case.  Instead, Tampa Bay will be continuing to deftly navigate their cap situation right down to the end of the regular season.
Photo courtesy of USA Today Sports Images.