The Minnesota Wild will not have one of the cornerstones of their franchise in the lineup on Wednesday night, as according to Michael Russo of The Athletic, Zach Parise will be made a healthy scratch. This will be the first time Parise has been a healthy scratch since signing a 13-year, $98MM contract to join the Wild in 2012.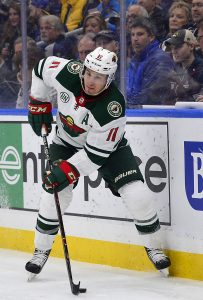 The Wild have recalled Gerald Mayhew and Kyle Rau from the taxi squad, as Ryan Hartman is also expected to miss the game with an injury, but the big news here is Parise. Now 36, the star forward has racked up 801 points in a 1,034-game NHL career, including nine this season in 19 games. Russo connects the scratch to the end of Monday's game, where Parise was on the ice for more than a minute and a half. The Vegas Golden Knights ended up tying the game with Parise on the ice, then winning in overtime.
Parise hasn't been as effective this season but has long been one of the most marketable players in Minnesota, racking up points and goals on the regular. He'll be 37 this summer though, and new GM Bill Guerin will have to make some tough decisions. There are still four years remaining on that contract and though it includes a full no-movement clause, Parise actually waived it last year to potentially go to the New York Islanders and rejoin Lou Lamoriello, the executive who drafted him with the New Jersey Devils in 2003.
It's not at all clear if Parise will be dealt at some point this season, given how difficult it is to trade a contract like his, but there's an obvious change coming in Minnesota. The team is rejuvenated with a new star at the forefront in Kirill Kaprizov, and they sit in a playoff spot today in the West Division. A scratch may be a one-time thing, but a quick look at Parise's ice time numbers this season shows a player that is slowly being phased out. After averaging at least 17 minutes a night in every season since his rookie year, he's well under that mark now and played just 12:42 in a game against the Los Angeles Kings last week.
Parise and teammate Ryan Suter signed identical contracts in that summer of 2012, ones that would not be allowed under today's CBA. The 13-year deals are so heavily front-loaded that the last three years see just $4MM in total salary paid out. Those numbers mean that Minnesota would be on the hook for recapture penalties if Parise retires early, something that potentially could be out of their hands if he is traded to another team. It does mean however that anyone acquiring him wouldn't be shelling out the $7.54MM that his cap hit indicates. After this season, just $10MM remains to be paid to the veteran forward.
Photo courtesy of USA Today Sports Images