The New Jersey Devils have finally given an update on the health of captain Nico Hischier, announcing that he underwent successful surgery to repair the frontal sinus fracture that he suffered on February 27. He has been on injured reserve since March 4 and is still expected to be out for the next three weeks. Hischier has cleared the concussion protocol from the event.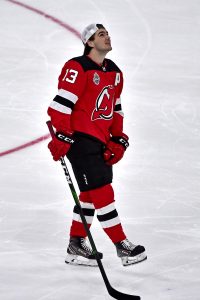 It's been a tough season for the 22-year-old Hischier, despite being handed the captaincy in February. He started the year on the injured reserve list thanks to an offseason leg injury and has had two different stints on the COVID Protocol list. This latest injury, suffered when a P.K. Subban slapshot deflected up a stick and into his face, means he has played just five games this season. Three more weeks means he'll return with only about 20 games in the Devils' season and when they're completely out of the playoff race.
It was supposed to be another strong development year for the young core in New Jersey, but thanks to injury Hischier hasn't been part of it. While Pavel Zacha, Jack Hughes, and Ty Smith lead the way, the captain has had to watch from the sidelines. When he returns, you can bet Hischier will be eager to contribute and show that his ceiling is much higher than the 50-point pace he's shown so far in his career.
Photo courtesy of USA Today Sports Images