The Ottawa Senators have announced that Derek Stepan will not return this season from the shoulder injury he suffered last month. The full statement from GM Pierre Dorion:
Following a review and assessment by the team's medical staff, it has been determined that Derek requires a surgical procedure to repair a damaged labrum that he incurred in dislocating his left shoulder. A procedure is scheduled to take place later this week which will see him miss the remainder of our season but it is expected that he be fully recovered ahead of next season. Our medical staff will remain in regular contact with Derek and his doctors as he continues his recovery.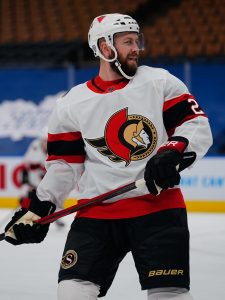 The veteran center had been working with the team on a potential trade that would take him closer to his family, but clearly this wasn't the way he wanted to be taken out of the Senators lineup. Stepan will be an unrestricted free agent at the end of the season, and though Dorion explains he is expected to be fully recovered, this certainly won't help him at the negotiation table.
Acquired just before the season began, Stepan scored six points in 20 games with the Senators. It appears as though his time with the club will appear as an odd footnote on his career unless they decide to bring back the 30-year-old center in the offseason. That wouldn't make a lot of sense for a team bursting with young forward prospects, but Stepan has always been respected as a leader and support piece in the locker room. More likely he's headed to his next destination after a few disappointing seasons, ready to prove his career isn't over.
Stepan's contract technically still could be traded, if a team feels it could glean some cap flexibility by placing him on long-term injured reserve. But he won't play again this season.
Photo courtesy of USA Today Sports Images