Saturday: As expected, Stralman has cleared waivers, reports Sportsnet's Chris Johnston.
Friday: The Florida Panthers are in a position to compete for the Stanley Cup, and now may be trying to clear a little cap room for the stretch run. According to Elliotte Friedman of Sportsnet, the team has placed Anton Stralman on waivers today. The veteran defenseman carries a $5.5MM cap hit through the 2021-22 season, $1.075MM of which can be buried if placed on the taxi squad.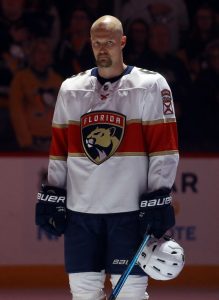 Because of that contract, exposing Stralman to the rest of the league comes with virtually no risk. There aren't any teams out there looking to bring in that much money for a veteran nearing the end of his career, even if Stralman does have plenty of playoff experience. In fact, even the Panthers aren't playing him every night, and when they do he is receiving fewer and fewer minutes. After averaging more than 20 minutes in each of the last six seasons, Stralman has only cracked 18 once since the start of March. Last night in a 3-0 loss to the Chicago Blackhawks, he played just 14:18.
The simple fact is that the Panthers have better options than the 34-year-old at this point and could even be potentially looking to bring more in at the deadline. The team recently sent Noah Juulsen to the AHL on a conditioning loan, meaning he is nearly back from injury, and there are other names more deserving of the nightly ice time.
Still, waiving Stralman doesn't mean they're cutting him. Once he clears, the team will be able to move him back and forth from the taxi squad between games to bank additional cap space while still using him whenever necessary. There's also the chance another team could be interested if the Panthers retain salary, especially should he clear waivers.
It's been a great career for the veteran defenseman, even if it is approaching the end. The 216th-overall pick in 2005 by the Toronto Maple Leafs, Stralman proved everyone wrong when he reached the NHL as a regular just a few years later. Now, after 847 regular season games and 108 more postseason contests, he may be shifting to a part-time role with the contending Panthers.
Photo courtesy of USA Today Sports Images